[Updated - Smith jumped a 7.7 on his first jump and fouled on his second two attempts to finish 12, Bermuda's highest finish of these Olympic Games so far. Had Smith not have fouled his last jump, he would have likely won a medal.]
After leaping a season best 7.97 to finish in 10th place in the qualification round Tyrone Smith is set to compete in the Olympic Long Jump Finals, which starts at 3.55pm Bermuda time this afternoon [Aug 4].
You can follow along with the finals live on the Olympic website here. IMC carried a brief interview with the 27-year-old Bermudian this afternoon and hopefully they intend to air the finals so tune into TV channels 11 and 514.
As only 12 athletes advanced to the finals, Smith is guaranteed to place 12th or higher in these Olympic Games. This is an improvement on his 2008 Olympic appearance where he placed a respectable 15th, but was eliminated before the finals. We will update as able, and you can view all our Olympic coverage here
Update 3.59pm: The finals are underway, Smith was shown on TV during the introductions of the 12 finalists. Two athletes have jumped already, follow live here on the Olympic website.
Update 4.09pm: Smith is due to jump soon, he has been on the track warming up, camera-phone photo below: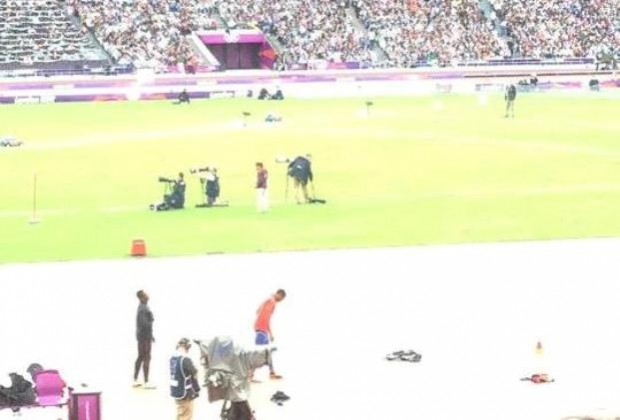 Update 4.12pm: He has completed his first jump, which was 7.7m. After the first round he is in 8th, as he leaped further than two athletes and three athletes fouled on their first attempt.
Update 4.28pm: Smith has fouled on his second jump, which was shown on TV. Brian Wellman was also shown on the TV coverage, and was shown giving him advice. The commentator noted Wellman's background in the sport and said "you can't get advice better than that." That foul has seen him move to 11th.
Update 4.43pm: Tyrone Smith has fouled his third jump and he is out. It was shown on TV and appeared to be a very strong jump around the 8m mark, however unfortunately he stepped over the line.
He was visibly disappointed, however the 27-year-old has given Bermuda a 12th place finish – our highest of these Games so far. He is also the only track and field athlete to reach the Olympic finals over the past 15 years since the days when Brian Wellman was competing.
Update 5.30pm: Great Britain's Greg Rutherford won the gold medal with a 8.31m, Mitchell Watt of Australia won silver with a 8.16m, and Will Claye of the USA won bronze with a 8.12m.
It is not out of the realm of possibility that he could have medaled had the last jump not been a foul, as Smith is capable of jumping up to 8.22m and his last jump looked to have been a big one.
Update 6.07pm: Tweet from Smith below:
Thanks everybody for the support. Sorry I couldn't bring home the hardware. I gave it everything I had. #fb

— Tyrone Smith (@iFlyNoWings) August 4, 2012
Update 8.43pm: Smith has confirmed as we said above, had he not fouled he would have won a medal as it was a 8.2m leap, which would have won the silver, however the fact remains it was a tremendous showing by Smith to make the Olympic finals, a feat few people in the world ever accomplish.
Just saw a video of my last jump.. 8.20+ meters.. would have been a medal if not for my fouling ways. Well damn that just made me feel worse

— Tyrone Smith (@iFlyNoWings) August 4, 2012
Read More About