Chelsea Soares has been named as the recipient of the 2012 Deloitte Scholarship, which is valued at $15,000 per year for up to 2 years.
The Company said that Ms Soares excellence in accounting, dedication to community service and involvement in extra-curricular activities set her apart from other applicants before a panel of Managers, Principals and Directors at Deloitte.
Ms Soares is currently in her third year of Accounting at Dalhousie University and is due to graduate in 2014, having previously attended Mount Saint Agnes Academy in Bermuda.
Deloitte's Mark Baumgartner and recipient Chelsea Soares: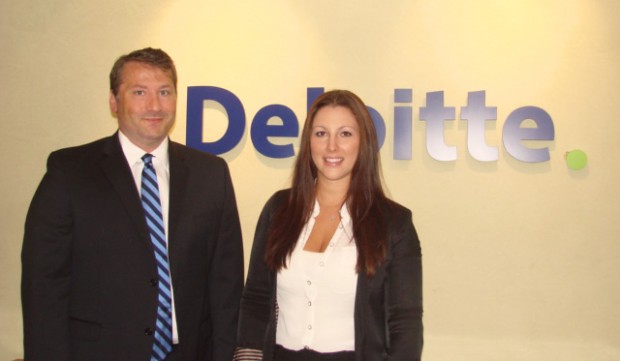 Mark Baumgartner, Principal at Deloitte, commented: "We take great pride in the development of Bermudians, as our ability to attract and develop the best possible talent is critical to serving our clients with distinction.
"Deloitte offers a stimulating environment to Bermudians in order to enhance their careers and fuel our business growth, fostering a culture where young people can thrive. We are pleased to recognize Chelsea, who has worked extremely hard and consistently demonstrated excellence, and wish her the best of luck in the coming academic year."
Ms Soares said: "I am thrilled to be awarded this Scholarship. I consider it a great honor and I look forward to the opportunities it will grant me for the future in continuing my education."
Deloitte has provided Bermudian graduate and undergraduate students in Accounting, Business & Actuarial studies with funding for their overseas education for over ten years. The Deloitte Scholarship is one of many ways Deloitte engages future leaders and offers them a glimpse of the company's culture.
Students are also able to hone their skills through the Deloitte Exclusive Experience Program as interns during the summer months and through the Summer Internship Programme.
The Deloitte Scholarship application deadline is 31 May 2013. Interested students should visit here for more information.
Related Posts