The Bermuda Zoological Society [BZS], in conjunction with the Atlantic Conservation Partnership [ACP] and underwater photographer and author Ron Lucas today released the Bermuda Reef Life HD Apple IOS app developed from Lucas's book Bermuda Reef Portraits.
The app builds on the success of Lucas's book and features brand-new images and searchable content. It contains some 240 high-resolution photographs of Bermuda marine life in fourteen sections, three of which are brand-new: Seldom Seen in Bermuda, Reef Activity, and Reef and Wrecks.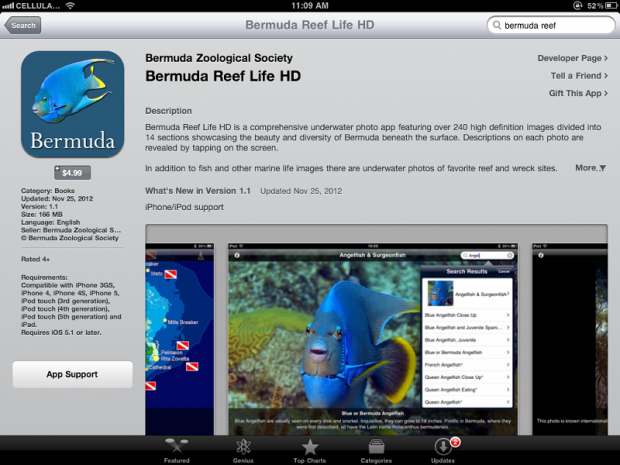 There are two maps of the Bermuda Islands and Reef Platform created by BZS research scientist and BREAM project leader Dr Thad Murdoch, one of which is interactive, providing pop up photos and information about many of the buoyed dive and snorkel sites around Bermuda. A key feature of the app is the search function which replaces the index in the book.
"The individual photos showcase the beauty of Bermuda underwater and our lovely marine life. They can be looked at by swiping the screen, by using the navigation icons or by playing as a slideshow. Information about marine species or dive sites photos can be accessed by tapping on the screen, replacing the text in the book" says photographer Ron Lucas.
The app was produced in a combined effort by Lucas, the Bermuda Zoological Society and the Atlantic Conservation Partnership, and was developed by Left Coast R&D. Dr. Ian Walker, principal curator of the Bermuda Aquarium, Museum & Zoo created the icon for the Apple App Store and designed the app's Help Screen, while BZS volunteer Judie Clee edited the text and assisted with fish identification.
"The app will be loved by all tropical and marine life enthusiasts, especially children, divers and snorkelers," says Lucas. "It will be of great interest to visitors, especially those wishing to explore Bermuda's marine life. It may be used as an introductory fish identification reference as it features most of our local reef life including some seldom seen species. The app is also a great resource for educators."
Bermuda Reef Life is available for the Apple iOS system of devices, namely the iPad, iPhone, iPod and iPod Touch for $4.99 from Apple's App Store. All revenue from the app's sales will benefit the BZS and ACP in their mission to conserve the Atlantic marine habitats through education efforts.
Read More About
Category: All, Environment, News, technology