Bermuda's volunteers took centre stage at the ACE Building on December 5th, as The Centre on Philanthropy held its 7th Annual Volunteer Recognition Reception.
The reception is part of National Volunteer Day celebrations with local charities nominating and recognising adult and youth "Volunteers of the Year". Earlier in the day a proclamation declaring December 5th as National Volunteer Day in Bermuda was read in the House of Assembly.
Each year The Centre organises the event to raise awareness and show gratitude for the impact that volunteers have in Bermuda. This year there were 71 adult and 30 youth volunteers recognised by 72 different charities.
"What we are particularly pleased with is the increase on youth volunteers recognised this year," says Pamela Barit Nolan, executive director for The Centre. "It shows that our young people are learning to give through the gift of time and we are thrilled that nonprofits are providing opportunities for Bermuda's youth to give back."
Photo: Volunteer Eden Richardson (left) and St. John Ambulance Brigade Commissioner, Stephen Gunn (right), attended the December 5th Volunteer Recognition Reception to honour National Volunteer Day in Bermuda. Ms Richardson was recognised for her exemplary service to St. John Ambulance Brigade. She was one of over 100 volunteers recognised by charitable organisations at the reception: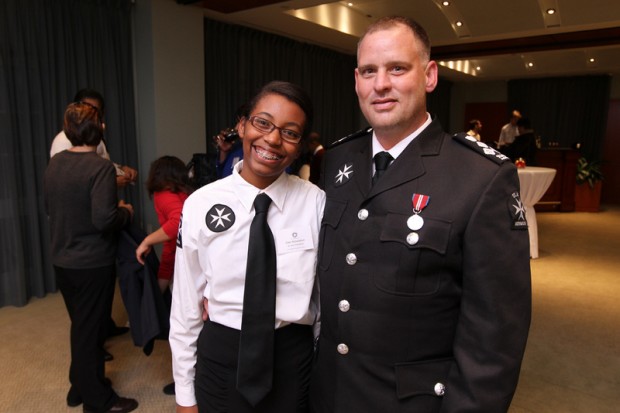 In his welcoming remarks, The Centre's Chairman, Brian Madeiros, acknowledged that while each charity could only choose two volunteers to recognise, the group represented literally thousands who give freely of their time and talents each year.
"Volunteers do such important work and we are honoured by the chance to honour them," he says. "It sounds cliché, but where would we be without them?"
Deputy Governor, Mr. David Arkley, also spoke at the reception, echoing Mr. Madeiros' sentiments while Minister for Government Estates and Information, Michael J Scott, thanked attendees for their efforts, and said that validation of their work comes "with each act of giving".
The Volunteer Recognition Reception was also the final public event for Ms Barit Nolan, who has been executive director of The Centre since 2005 and is stepping down from the position on December 31, 2012.
"This celebration has become one of my favourite events over the last seven years. Each year the volunteers are so inspirational and the environment full of care, compassion and gratitude," she says.
"But I will be continuing as a proud member of The Centre on Philanthropy and the next time I'm at a Centre event I will have on a volunteer shirt rather than a staff shirt – who knows, maybe I will even get nominated one year!"
To see photos of all the volunteers recognised you can visit here.
Read More About