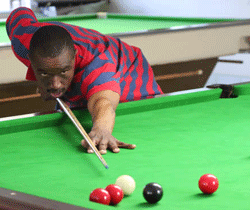 Steven Bremar won the latest Miller Challenge Handicap Snooker Tournament that took place at Sandys Boat Club and Watford Sports Club.
Bremar defeated Aaron Bean in his Semi-Final match 2 – 1, while John Burns won his Semi-Final match by default after his opponent had to leave.
In the first to three wins Final, Bremar had to spot Burns 30 points, with Burns winning the first game 57 – 47. Bremar would bounce back and win the second game 78 – 65, Bremar would then take the lead 2 – 1 with a 80 – 58 win. Burns would win the fourth game 76 – 69 to draw level but Bremar would win the fifth and final game 69 – 67 on the Black Ball to take the tournament.
Read More About