Hundreds of runners from both the island and overseas converged on Front Street in rainy conditions this morning [Jan 20] for the start of the Bermuda Marathon Weekend half-marathon and marathon.
Zambia's Jordan Chipangama and Russia's Olga Romanova won the Half Marathon, with Bermuda's Chris and Ashley Estwanik claiming the second place spots. Richard Kessio and Elena Orlova won the Full Marathon.
Kessio crossed the line in a time of 2:27.08, Fikadu Lemma finished second in 2:29:32 and Teklu Deneke finished third in a time of 2:40.07.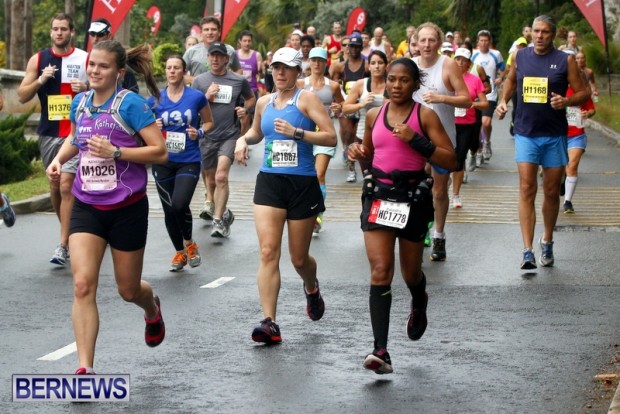 Orlova went through the half way mark in second place trailing Muliye Gurmu, but she was able to catch and pass Grumu on her way to crossing the line 4th overall and winning the race in a time of 2:54:08.
Gurmu finished as the second female finisher and 5th across the line in a time of 3:01:12 and Iman Wilkerson was the third female finisher and 7th overall in a time of 3:09:02.
The 13.1 mile course started and finished outside the HSBC Bermuda Headquarters on Front Street in Hamilton. The marathon was run at the same time as the half marathon, with the marathon runners completing 2 laps of the course.
View all our coverage of the 2013 Bermuda Marathon Weekend here.
Click to enlarge photos:
Read More About