The first annual Eastern Counties Relay Classic road race was held on Sunday morning [Jan 27] with participants braving chilly temperatures and windy conditions when they started at Flatts Field in Smiths.
A total of eleven teams  – of four people each — took to the course with the Bermuda Tools Team of Adam Hopkin, Peter Gracey, Tim Goodyear and John Thompson crossing the finish line at St David's County Cricket Club in first place.
Bermuda Tools Team: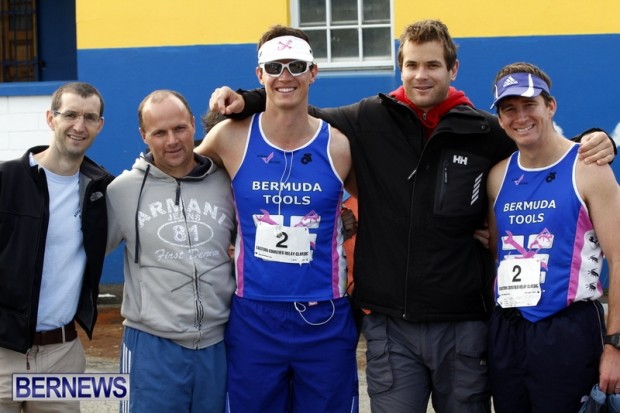 The Alpha Phi Alpha Team took second place honours with members Shannon Dyer, Jonathan Ball, Leyde St. Leger and Jason Lowe vowing to come back next year and improve their positioning. The third place position went to the Swan's Team consisting of Chris Jones, Vernal 'Scooby' Durham, Ed Harris and Larry Hodge.
Alpha Phi Alpha Team: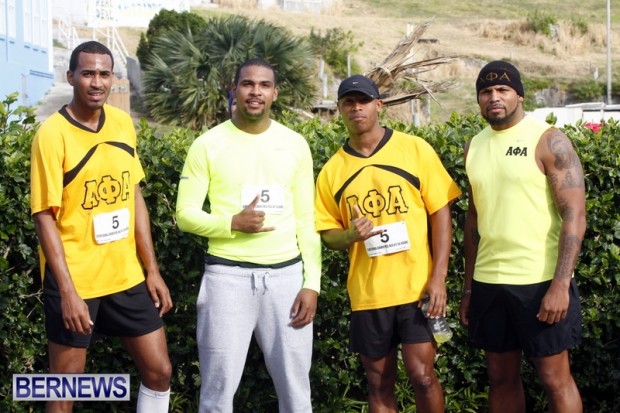 Other teams participating in this inaugural road race included Renegades RFC, Tebows, Warriors and Eastern County Club teams representing Bailey's Bay, Flatts, Cleveland County and St. David's. Teams congregated at the St. David's County Cricket Club finish line for a prize presentation after the race.
Eastern Cricket County Association President Steven Douglas said, "For the first race, it went very well." The event looks to grow in coming years with the possible addition of more divisions available to entrants.
Read More About