An estimated 900 old school reggae music lovers made their way to the BAA Gym on Saturday night [Feb 2], as local and overseas artists took the stage for the 'Veterans in Action' concert.
Jugglin Jason warmed up the crowd with a variety of old school reggae that was well received by the crowd, and the Bermudian entertainers were the first to take the stage. Local artist Kulture was accompanied by his son, who noted that he "wasn't a veteran, but he was in action" before entertaining the crowd.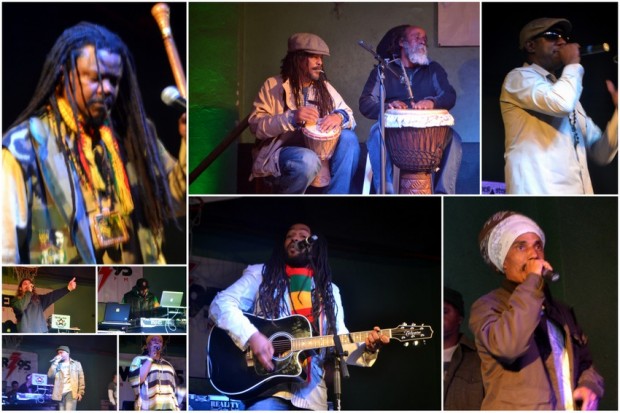 Flookie and Sista Mandy also took the stage as did Desmond "Rivah" Smith, who performed a number of Bob Marley covers as well as his original song "Love you brother" he wrote in memory of his brother Colford Ferguson who was gunned down while working in Somerset two years ago.
The show continued with Screechy Don performing a variety of songs including "Rising to the Top." He was joined briefly by veteran Bermudian singer Junior C, who thrilled the crowd with his trademark fast paced style.
He was followed by Jamaican singer Mr. Easy who had the crowd dancing along with a few old time favorites, before the headliners Mikey General and Luciano came out to give a full performance which well received by the crowd.
The two Jamaican artists, who visited CedarBridge to give a motivational presentation, performed many of their classic conscious reggae hits.
In addition to the musical performance, Luciano — also known as The Messenger — lowered the music for a while and spoke with the crowd about a variety of things, many tied into his Rastafarian beliefs.
Preaching against violence, the 48-year-old singer made special mention of the late Haile Outerbridge, who was one of the two men fatally shot inside Belvin's last month. Outerbridge was a well known local reggae singer, who performed under the name 'Star Child.'
Ital food and a cash bar and the show ended without incident at 3.30am, with many of the attendees full of praise for the event and the "good vibes."
The promoters extend their thanks to the patrons for supporting the event, and also thanked the sponsors for making the event affordable and accessible.
Overseas artist Mr Easy:
Jamaican artists Luciano & Mikey General:
Overseas artist Screechy Dan, who was briefly joined by Bermuda's Junior C:
Local artist Rivah:
Local artist Sista Mandy:
Local artist Kulture and his son:
Local artist Flookie:
Read More About
Category: All, Entertainment, Music, News, Videos