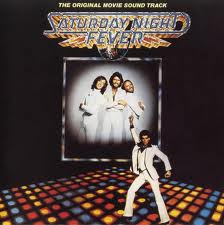 The lyrics to one of their 1976 hits ran "What you doin' on your back/You should be dancing, yeah/Dancing, yeah …" and the following year the entire world was doing just that when three songs written by the superstar Gibb brothers in Bermuda topped the international music charts.
"Stayin' Alive", the Bee Gees' theme song to the phenomenally successful movie "Saturday Night Fever", along with two back-to-back number one hits by teen sensation Andy Gibb were all composed at the Bermuda home of Australian-born impresario and entertainment entrepreneur Robert Stigwood.
The Bee Gees — brothers Barry, Robin and Maurice Gibb — had been managed by Mr. Stigwood since the 1960s when they first found fame as a pop act. The trio later released their singles and albums on Mr. Stigwood's independent RSO Records label which he launched in 1973.
The groups's career was resurgent in the mid-1970s; they had moved from pop songs and ballads marked by their signature three-part harmonies to a more rhythmic, disco-influenced style, producing hits such as "Jive Talkin'", "Nights on Broadway" and "You Should Be Dancing."
Throughout 1976 Barry Gibb, the eldest Gibb brother and the Bee Gees' unofficial leader, and twins Robin and Maurice had been regular guests at Mr. Stigwood's elegant resort home "Palm Grove" in Devonshire.
While on the island planning new projects with Mr. Stigwood, the brothers worked on several songs — one of which was eventually titled "Stayin' Alive."
Bee Gees Barry, Robin and Maurice Gibb with Robert Stigwood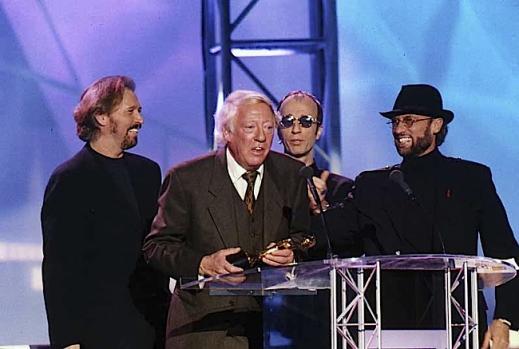 The songs were originally intended for a new Bee Gees album. The group was in the midst of recording the material at France's Le Chateau Studios when Mr. Stigwood informed them the songs they were working on were now to be featured on the soundtrack of his upcoming film "Saturday Night Fever."
Mr. Stigwood's transitions from a rock band manager and producer to multimedia entertainment impresario had started in the late '60s when he saw the musical "Hair" on Broadway and decided to produce it in London's West End.
He went on to produce the stage and movie versions of "Jesus Christ Superstar", a film adaptation of The Who's rock opera "Tommy" and brokered the deals which repackaged British TV hits "Til Death Do Us Part" and "Steptoe & Son" as "All In The Family" and "Sandford & Son" on American television in the early 1970s.
A 1976 "Rolling Stone" magazine profile described Mr. Stigwood "as constant traveler, a bachelor with homes in Los Angeles, New York and Bermuda … a peripatetic power broker with a penchant for style and a fondness for life in the grand manner."
"Saturday Night Fever" movie trailer [1977]
When Mr. Stigwood first arrived in Bermuda in 1976, he was planning a slate of new movies — one of them a low-budget production based on a "New York" magazine article about the disco sub-culture called "Tribal Rites Of The New Saturday Night"; the film's title was changed to "Saturday Night Fever."
Starring the relatively unknown sitcom actor John Travolta, the film told the story of of a Brooklyn paint store clerk who escapes his dead-end existence on the disco dance floor.
A massive popular and critical success when it was released in 1977, the film became something of a cultural phenomenom. It popularised disco music around the world, spawned trends in everything from dancing to fashion to hairstyles and turned Mr. Travolta into a superstar ["We thought we were making a little art film," the actor said in the wake of "Saturday Night Fever's" remarkable impact].
The "Saturday Night Fever" soundtrack album, featuring four new songs by the Bee Gees and two previously released hits, sold more than 40 million copies worldwide. The double-LP stayed atop the US album charts for 24 straight weeks from January to July 1978 and remained on "Billboard" magazine's album charts for 120 weeks until March, 1980. In the UK, the album spent 18 consecutive weeks at number one.
The Bee Gees' "Stayin' Alive" [1977]
Some sections of the other chart-topping Bee Gees songs from the soundtrack — "How Deep Is Your Love", "Night Fever" and "More Than A Woman" — had been sketched out in Bermuda. But the infectiously appealing "Stayin' Alive" — which topped the US singles charts for a month and was once famously described as "a kind of national anthem for the'70s" — is the only song that was largely completed here.
Speaking to a Netherlands radio interviewer in 2002, Maurice Gibb said "Stayin'Alive" was "really born, I think, more in Bermuda than anywhere else. We finished it off in France."
Aside from working on new songs and discussing plans for a movie starring the Bee Gees based on the Beatles' album "Sgt. Pepper's Lonely Hearts Club Band" [it was released in 1978], the Gibbs also plotted the next career move for younger brother Andy while visiting Mr. Stigwood in Bermuda in 1976.
With his blonde good looks and clear, melodic voice, the youngest Gibb brother — he was then 18 — had become a pop sensation in Australia and Mr. Stigwood was interested in launching his career internationally.
After Andy Gibb married girlfriend Kim Reeder in Sydney on July 1, Mr. Stigwood invited the couple to spend their honeymoon at "Palm Grove".
Andy Gibb's "I Just Want To Be Your Everything" [1977]
"[Following] the reception, the new Mr. and Mrs. Andrew Roy Gibb left for a honeymoon in Bermuda at Robert Stigwood's lavish home there," said Bee Gees biographer Andrew Hughes "Barry and Robert Stigwood were there to meet them and to begin making plans for turning 'The Bee Gee' Baby Brother' into the teen idol, Andy Gibb.
While in Bermuda, Andy Gibb signed a recording and management contract with RSO and collaborated on two songs with brother Barry — "I Just Want To Be Your Everything" and "[Love Is] Thicker Than Water."
"[When he wasn't working] Andy and Kim found plenty of time to themselves to enjoy their honeymoon," said Mr. Hughes. "They rode motorbikes all over the island, went shopping and took sightseeing trips.
"They went swimming in the crystal clear water and went out in catamarans. An entire day was spent out on a big-game fishing boat.
"Kim enjoyed Bermuda and loved Stigwood's house and its garden with a huge pond with a map of Bermuda in it.Stigwood's culinary skills also impressed her. 'We ate five-course dinners,' she remembered. "Robert Stigwood imported nothing but the best and he cooked the food himself. He's a pretty good chef' …"
"I Just Want To Be Your Everything" was the first single released by Andy Gibb on the RSO label; released in May 1977 it reached number one in the US and Australia and was among the most played records of the year.
The follow-up Bermuda-penned song "[Love Is] Thicker Than Water" was even more successful.

Andy Gibb performing "[Love Is] Thicker Than Water" [1977]
Released in October, 1977 the single peaked in early 1978 during the time that the Bee Gees' contributions to the "Saturday Night Fever" soundtrack were dominating the world charts.
Ironically, in the United States it replaced "Stayin' Alive" — the most celebrated product of Barry Gibbs' frenetic "Palm Grove" writing sessions — at the top of the charts.  "[Love Is] Thicker Than Water" was in turn surpassed by the Bee Gees' "Night Fever", which also owed something to the Gibbs' 1976 Bermuda retreat.
While he had a handful of other hits, Andy Gibbs' career proved to be a troubled one. Succumbing to drug abuse and the pressures of fame, he died in March, 1988 of a heart ailment in Oxford, England. He was just 30 years old.
Among the best-selling musical artists of all time, the Bee Gees continued to record and tour until Maurice Gibb suddenly died in 2003 at the age of 53 from a heart attack while awaiting emergency surgery to repair a strangulated intestine. Robin Gibb died in May, 2012 following a long illness.
Surviving brother Barry Gibb lives and works in Florida.
Mr. Stigwood lived in Bermuda for many years, moving from "Palm Grove" — which he had rented — to the sprawling "Wreck House" property at the West End of the island [while he was negotiating to buy that estate one of his spokesmen told a Chicago newspaper the mogul was in the process of buying "a small corner of Bermuda the size of several golf courses ... He loves it there"]
"Palm Grove", the luxurious South Shore estate rented by Robert Stigwood in the '70s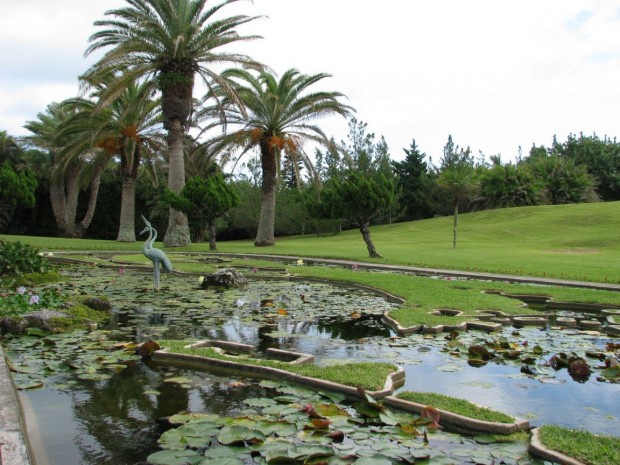 While in Bermuda he went on to produce the '50s-era rock'n'roll movie musical "Grease", which co-starred John Travolta and Australian singer Olivia Newton-John, and the West End and Broadway versions of the stage show "Evita" along with a later film adaptation starring Madonna.
He hosted such visiting luminaries as the Duchess of York, Mr. Travolta, film director Ken Russell and pop star Cyndi Lauper at his Georgian Wreck Road mansion before moving to the Isle of Wight in the late 1990s.  Mr. Stigwood now lives near London.
Read More About
Category: All, Entertainment, Films/Movies, Music