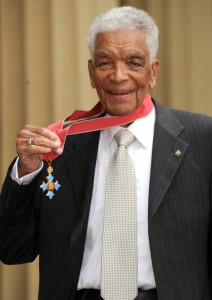 As part of their Black History Month series, MyLondon has highlighted the late Bermudian actor Earl Cameron, a legendary figure who broke down many barriers.
MyLondon said, "Born in Bermuda in 1917, Earl Cameron first appeared on screen in the 1951 Ealing film Pool of London, in a rare starring role for a Black actor.
"Earl and a white actress had the first known cinematic inter-racial romance in the film. He went on to lead a highly successful career until his death at the old age of 102 last year.
"Earl appeared as James Bond's chauffeur in the 1965 film Thunderball, and played one of the astronauts on a spaceship in Doctor Who: Tenth Planet.
"More recently, he starred alongside Nicole Kidman and Sean Penn in the 2005 film The Interpreter and held a small role in the 2010 film Inception, starring Leonardo DiCaprio.
"He even appeared on Casualty and EastEnders.
"In recognition of his dedicated career, Earl was appointed Commander of the Order of the British Empire [CBE] in the 2009 New Year Honours.
"The actor had spoken about the challenges of being a Black actor in the early years.
He said: "I wanted to play big parts in films but Black film actors in this country were not given any promotion.
"Our names did not appear on film posters. I lost count of the times we met with Equity to try and stop black Americans being brought over to take roles in British films like The L-Shaped Room, Heaven's Above and The Hill.
"Roles that I, and many others, could have played. This happened because casting directors didn't believe we – black British actors – could act. But, in spite of this, I did work consistently throughout the 1950s and 1960s."

Read More About
Category: All, Entertainment, Films/Movies, News