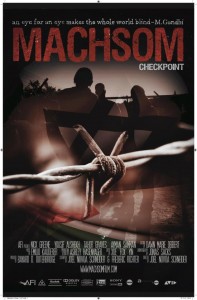 Bermudian Bayard Outerbridge's recently completed short film "Machsom" – will make its international film festival debut at next month's Bermuda International Film Festival [BIFF].
Aspiring movie producer Mr. Outerbridge was the toast of Hollywood's student filmmaker community earlier this month [Mar.2] when the film — which puts a human face on the seemingly intractable Israeli/Palestinian conflict — had its world premiere screening at the American Film Institute in Los Angeles.
Mr. Outerbridge is the first Bermudian to attend the prestigious American Film Institute Conservatory's Master of Fine Arts programme; "Machsom" – the Hebrew word for "Checkpoint" — involved Mr. Outerbridge and fellow students Jonas Sacks, Frederic Richter, Xue [Fox] Yin and Joel Novoa taking on the cinematographic, writing, editing, directing and production chores of an original film as a thesis requirement.
"We look forward to sharing our film with you all in the mid-Atlantic for the very first of many film festival screenings to come," said an announcement at the official "Macshom" website. "Pink sand beaches and turquoise waters here we come!"
Mr. Outerbridge and his American Film Institute collaborators discuss "Machsom"
"Machsom" will screen in competition at BIFF 2013 at the Bermuda Underwater Exploration Institute's Tradewinds Auditorium on Saturday, April 13 at 3.45 p.m.
Ticket information — along with the full BIFF line-up of shorts and feature films — will be announced shortly.
The 16th annual edition of BIFF will run from April 12-18.
Read More About
Category: All, Entertainment, Films/Movies, News