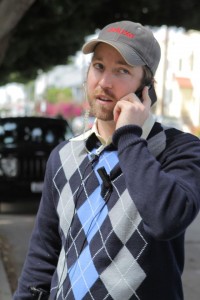 Aspiring Bermuda movie producer Bayard Outerbridge was the toast of Hollywood's student filmmaker  community on Saturday [Mar.2] when his gripping short "Machsom" had its world premiere screening at the American Film Institute in Los Angeles.
Mr. Outerbridge [pictured here on the film's set] is the first Bermudian to attend the prestigious American Film Institute Conservatory's  Master of Fine Arts programme;  "Machsom"  – the Hebrew word for "Checkpoint" — involved Mr. Outerbridge and fellow students Jonas Sacks, Frederic Richter, Xue [Fox]  Yin and Joel Novoa taking on the cinematographic, writing, editing, directing and production chores of an original film as a thesis requirement.
In July 2011, the American Film Institute was voted the top film school in the world by "The Hollywood Reporter" which called it "among the most selective film schools in America," with its students benefitting from "speakers and teachers drawn from the highest levels of the industry, supported by the full weight of AFI itself…AFI's glittering parade of alumni, from David Lynch to Darren Aronofsky, remains unrivalled when it comes to auteur filmmakers…If you know where you're going, AFI can get you there."
Drawing its theme from Indian leader Mahatma Gandhi's maxim that "an eye for an eye makes the whole world blind", Mr. Outerbridge's  well-received film takes an unflinching look at the human toll extracted by the seemingly intractable Palestinian-Israeli conflict.
Funded by donations — including a grant from the Bermuda Arts Council — "Machsom" is set in the Israeli-occupied West Bank at the beginning of the second Palestinian intifadah in September, 2000.
Trailer for Bayard Outerbridge's film "Machsom"
Shot on 35mm film in Dolby 5.1 Surround Sound, the ambitious production was made in and around Los Angeles last year. "Machsom" tells the story of Yaniv Greenblatt, a teenage Israeli soldier stationed at one of the most dangerous checkpoints along the demarcation line dividing Jews and Palestinians on the West Bank.
Yaniv has just one more year to finish his mandatory service in the Israel Defense Forces. He would like to be a pacifist and struggles to be fair to the Palestinians, but has to contend with the prying eyes of Sgt. David Melamed, and his other superiors.
The problems Yaniv faces at home are no easier. His mother is a wheelchair-bound, extreme right-winger due to the same terrorist attack that killed her husband. Avi, Yaniv's younger brother, seems to be drifting in the same direction.
"Machsom" depicts the physical separation of  the Palestinian and Israeli communities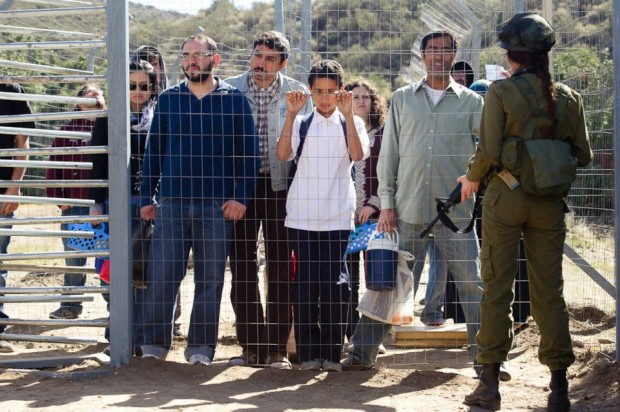 The story centres on the day Yaniv goes to pick up his brother at school but finds Avi and several other kids bullying Mohammed, an Arab Israeli boy who lives with his Palestinian father across the Green Line. Mohammed's father, Khalil, cannot cross the checkpoint due to a curfew that has been imposed that day.
Unable to help Mohammed get home that evening, Yaniv decides to take Mohammed to his own home.
Yaniv and Mohammed must contend with both Avi and Amalia, neither of whom want Mohammed to be there. Yaniv manages to speak up against his mom's prejudices, and Mohammed and Avi find common ground.
The following day, a troubling incident at the checkpoint leaves all involved to reconsider their previous resolve.
Following its weekend premiere, it was announced that "Machsom" has been selected as one of five films to screen at the Directors Guild of America Showcase this month.
Tense confrontation scene from "Machsom"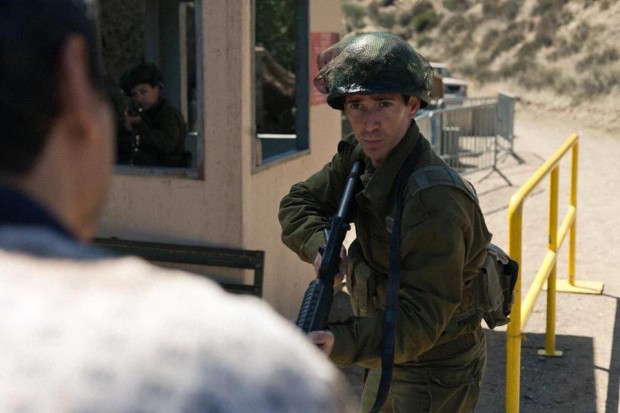 "The annual private screening, well attended by industry folk, will be held at the Director's Guild of America theatre in Hollywood," said Mr. Outerbridge.
"Machsom" will soon be submitted to screen in competition at US and international film festivals.
Born and raised in Bermuda, Mr. Outerbridge's passion for filmmaking solidified into a career path when he moved to the UK in 2006 to crew on films in various capacities, culminating in a position on the Myriad Pictures feature, "Death Defying Acts".
Bringing his talents back to his island, he spent one year producing television segments for local production company LookBermuda before heading to Montreal, Canada.
There, he obtained his BFA, with Distinction, from Concordia University's Mel Hoppenheim School of Cinema receiving, amongst other awards, the Susan Schouten Documentary Film Award for best documentary of all undergraduate and graduate students that year.
Producer Bayard D. Outerbridge, actor Ayman Samman and director Joel Novoa at the premiere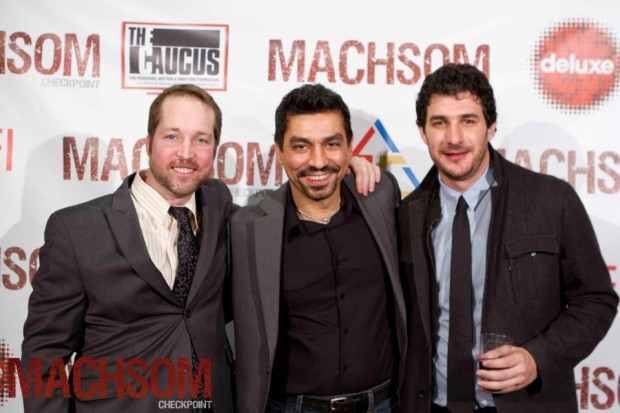 Drawing on his creative and entrepreneurial skills, Mr. Outerbridge set his sights on Los Angeles, where he moved to complete his MFA in Producing at the American Film Institute.
While completing his degree, he worked as a development intern at Phoenix Pictures, produced four short films and crewed on several others.
Most recently, Mr. Outerbridge was associate producer and production manager on Stephanie Martin's "Wild Horses", shot by Oscar-winning cinematographer Robert Richardson.
While working towards the completion of "Machsom", he has been actively seeking feature scripts to develop into movies, with a primary focus on thrillers, coming-of-age dramas and adventure films.
"Machsom" premiere photos courtesy of Kristen DiLiello
Read More About
Category: All, Art, Entertainment, Films/Movies, News, Photos