Bermuda's Brazilian Football School [BBFS] has partnered with The Argus Group and Partner Re Bermuda, to hold the first BBFS International Girls Football Festival.
Three International teams from the United States and Canada will visit the island for 5-7 days, to train, play football and fellowship with their Bermudian peers aged 12 – 21.
The festival will see 3 matches being played daily from Friday, March 29th – Sunday, March 31st at the National Sports Center North Field. Each day, match play will begin at 9am and conclude at 12:30pm.
The Girls Festival will see close to 150 female players participate and will include teams from Bermuda's Brazilian Football School [U14], Bermuda Football Association [U15, U17, U20 and Senior Women's teams] Fusion Florida [U17], FC Virginia U14 [USA] and BFS Guelph and Fergus U14 [Canada].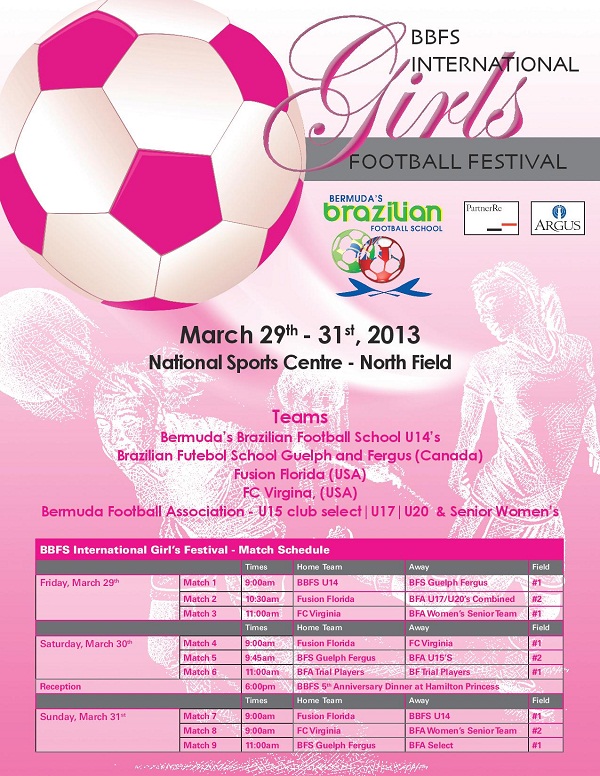 Dennis Brown BBFS President said, "BBFS aims to offer our programs to both female and male players. As we celebrate 5 years of existence, it is important that we recognize the invaluable role girls and women play in football, on a global scale.
"We are proud to offer our members that traveled to the Disney Cup and reached the semifinals and finals in 2012, the opportunity to showcase their talent on local soil. We are also proud to partner with the BFA Women's National teams and offer competitive activity, as they prepare for the upcoming Natwest Island Games, [to be held in Bermuda] and various FIFA tournaments."
Cal Blankendal, CEO of BBFS explains, "Bermuda's Brazilian Football School in partnership with the Argus Group and PartnerRe are proud to have three teams visit Bermuda and look forward to a very exciting weekend of activity.
"Not only have Argus and PartnerRe offered their support for the Girls International Festival but they have also offered their support for the BBFS Easter Camp. The camp will be held from April, 1-5 at the BAA Goose Gosling Field for boys and girls aged 7-14."
"BBFS supports the tactical and technical development of girls' football, as the sport plays a major role on the island. The game is gradually capturing the hearts of our female players, both in schools and weekly league matches. The 'Beautiful Game' aids in the social and academic enrichment of our female athletes and will offer them scholarship opportunities. We look forward to a festival of positive life skills and powerful messages, as we battle against youth diabetes, teenage pregnancy and anti-social behavior."
BBFS will celebrate 5 years of existence with a dinner on Saturday, March 30th at the Fairmont Hamilton Princess.
Read More About