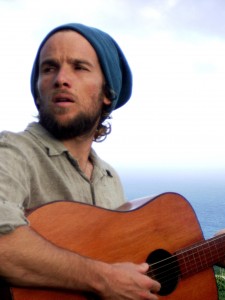 The title track of Bermuda singer/songwriter Mishka's new EP, "Ocean Is My Potion" – featuring legendary American performer Jimmy Buffett — recently topped the Billboard reggae charts.
Mr. Buffett, whose songs have made him synonomous with a laid-back island lifestyle, first met Mishka when he was only four years old.
Mishka and his sisters — one of them future alternative rock star Heather Nova – were selling croissants in the French West Indies when he came upon the "Margaritaville" man himself.
The acoustic-leaning songwriter even wrote a song about that encounter with Mishka called "Chanson Pour Les Petis Enfants."
Now the musicians' relationship has come full circle on Mishka's on "Ocean Is My Potion" which features a combination of their velvety vocals.
Born in Bermuda and raised in the Caribbean, Mishka Frith is a traveller and a sailor at heart. A free spirit, whose lyrics melodies and grooves, are reflections of the roots and culture in which he grew, Mishka's music is Caribbean at the core, and yet it's an eclectic sound that contains many elements and genres.
From bass heavy roots reggae, to mellow acoustic ballads, songs of love, songs of social justice and consciousness, you have to hear for yourself and experience the music.
Bermuda reggae star Mishka sings "Ocean Is My Potion" with Jimmy Buffet
Mishka's journey has taken him full circle, from an independent singer songwriter, then signed to big record labels like Creation and Sony, through the bright lights of Hollywood working with Matthew McConaughey and his jk livin label and finally to Mr. Buffett's Mailboat Records.
Established in 1999, the Key West-based label's first release was "Buffett's Buffett Live: Tuesdays, Thursdays, Saturdays."
In addition to Mr. Buffett and Mishka, the label's roster includes Dan Fogelberg, Bret Michaels, Boz Scaggs, Def Leppard and Walter Becker.
Read More About
Category: All, Entertainment, Music, Videos