Earlier today [Apr 2] Vaughan Archibald, Maki Pitt, Tomeeka Talbot and Damiko Trott were presented with airline tickets by Home Affairs Minister Michael Fahy as they prepare to head to the UK for a butcher training course.
Speaking last month during his budget presentation, Minister Fahy said the Department will enter into an agreement with Meat Ipswich in the UK to provide an overseas accelerated accredited training opportunity for four Bermudians, with $80,465  allocated for this initiative.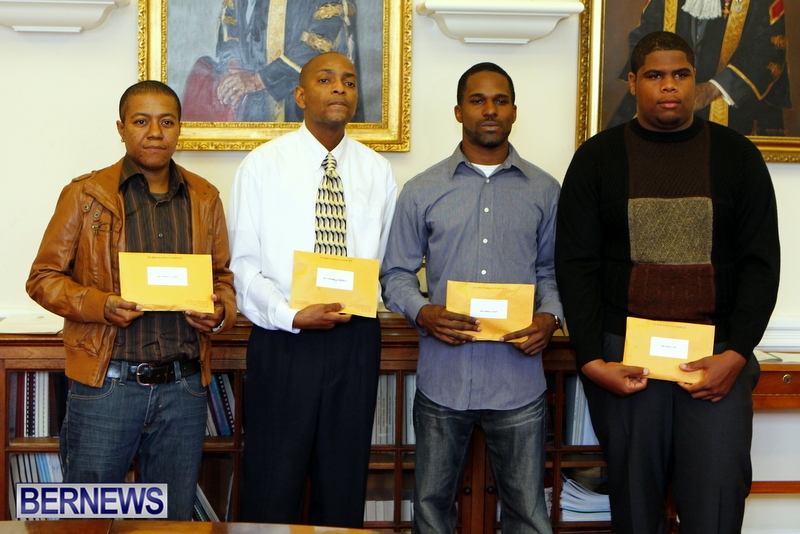 Minister Fahy said, "A few days ago, I stood here in the Senate Chambers and announced that the Ministry was sending six young Bermudians off to the New England Institute of Technology [NEIT] to train as Automotive Collision professionals.
"Well today I am pleased to announce our next group of trainees who will be travelling to Meat Ipswich in the UK on Friday to train in the Butcher's profession. They are Vaughan Archibald, Maki Pitt, Tomeeka Talbot and Damiko Trott.
"You'll be aware these training initiatives were announced mere weeks ago as part of the Government's Throne Speech and Budget, so we're very pleased that we are able to demonstrate that we are indeed following through on our promise of providing training opportunities for Bermudians in such quick order.
Minister Fahy continued, "As it relates to this programme, like the automotive training at NEIT, this level of Butcher's training is currently not available in Bermuda. Meat Ipswich has a quality management system and a detailed technical curriculum which we feel is quite impressive.
"The overall aim of the programme is to provide an overseas accelerated accredited training opportunity for these four individuals to become Butchers.
"As an additional note, it has been determined that there will be a need for this skill and competence level as the number of work permit requirements has increased by 11% from 2008 – 2011.
"So our objective is to provide access to employment opportunities in a field that would traditionally be filled by guest workers.
"I'm very pleased to note also that our local industry partners recognise and support the decision to have more qualified Bermudians in this trade – and the Ministry certainly welcomes this endorsement from the industry.
"Finally, as I've said previously, ensuring social and economic equity for everyone is a critical goal for this Government. And we see this training initiative as genuine progress by affording Bermudians an opportunity to work in a specified field of employment.
"So to our trainees congratulations to you all. You should all feel very proud of yourselves."
Read More About