To salute the opening day of the 2013 Bermuda International Film Festival [BIFF], the Bermuda National Museum yesterday [Apr.12] uploaded a gallery of rare production sketches and storyboards from the locally produced 1977 blockbuster "The Deep"  at its Facebook page.
Based on the bestselling novel by Peter Benchley and shot primarily in Bermuda in the summer of 1976,  "The Deep" starred the late Robert Shaw as St. David's treasure diver Romer Treece — a character modelled on the real Bermudian maritime explorer and historian Teddy Tucker.
Co-starring Oscar winner Louis Gossett Jr., Jacqueline Bisset and Nick Nolte, the film's production crew was based at Dockyard.
Full-scale interior sets of Romer Treece's lighthouse home were constructed in empty Royal Navy warehouses at Dockyard which served as vast ersatz sound stages for the production crew.
The National Museum itself [then the Bermuda Maritime Museum] stood in for the Hamilton Library in scenes involving Ms Bisset and Mr. Nolte's characters researching the graves of ships wrecked on Bermuda's reefs.
"At a mere 22 miles long and an average of one mile wide, water is almost everywhere you look in Bermuda," said "The Deep's" producer Peter Guber in an account of the making of the film. "The South Shore is one gorgeous pink beach after another, all overlooking that vast turquoise sea.
"… Bermuda looks like a gorgeous botanical garden gone mad. And the rainbow-coloured Bermudian houses fit right into this picture postcard of a landscape, nestling cozily amid the greenery like Easter eggs in a bed of moss.
"All in all, Bermuda has such a clean, bright almost unnaturally colourful beauty, that it inspired our production designer Tony Masters to sputter bemusedly, on an early location recce, 'It's hard to find locations that look real here — this whole place looks like one giant movie set'!"
Anthony Masters' production sketch from "The Deep"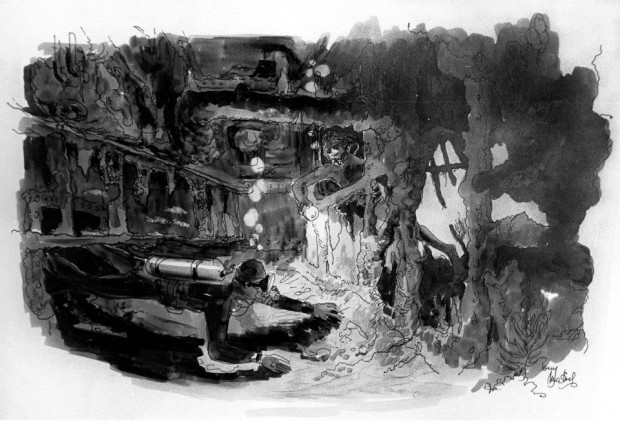 But Mr. Masters — who won an Academy Award for his work on Stanley Kubrick's masterpiece "2001: A Space Odyssey" — eventually found his locations: a full-scale replica of the St. David's Lighthouse was constructed at a desolate spot on Coney Island; Marley Beaches and Ariel Sands substituted for Mr. Benchley's fictional cottage colony, The Orange Grove Club; and the Southampton Arms bar became the hang-out for Treece's treacherous sidekick, Adam Coffin [played by Eli Wallach].
Louis Gossett Jr. and henchman plot some villainy at Cup Match in "The Deep"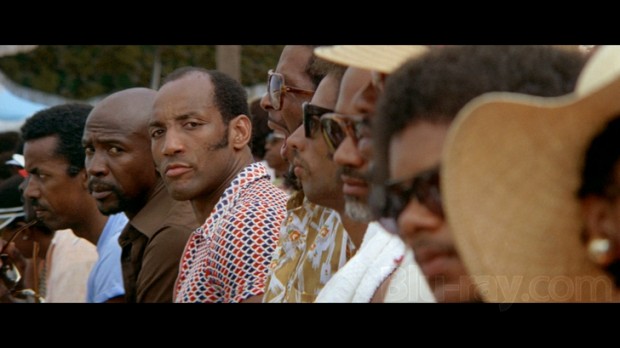 A chase sequence [Mr. Nolte and Ms Bisset being pursued on rental Mobylettes by a forwarding van — quite a comedown for director Peter Yates, who choreographed Steve McQueen's legendary high-speed pursuit of the villains in "Bullitt"] was staged on Langton Hill and near Mangrove Bay.
And Wellington Oval was cast as itself for the Cup Match sequence.
While underwater footage for the film was shot in the waters off the British Virgin Islands and Australia, most of the diving sequences were filmed in a huge tank constructed at the West End — what was then the largest set of its kind in the world.
Bermuda National Museum sketches and storyboards  from "The Deep"
– Drawings courtesy of the Bermuda National Museum
Read More About
Category: All, Entertainment, Films/Movies, History