[Updated with video] The Annual Commemorative Service for King's Pilot James 'Jemmy' Darrell was held today [Apr 13] in St. George's, celebrating the life of the freed slave who become the first black man to own a home in Bermuda.
Lead by Rev. David Raths and Rev. Dr Erksine Simmons the service was held at St Peter's Church graveyard, with Bermuda Sea Cadets performing ceremonial duties.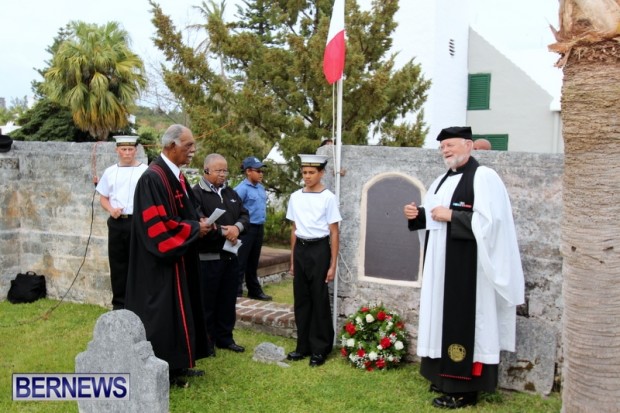 In May 1795, James Darrell piloted Admiral George Murray's ship — the 74-gun HMS Resolution — into St. George's. The Admiral was so impressed with Mr. Darrell's skill that he recommended that he be granted his freedom. Governor James Craufurd granted this request, and released Mr. Darrell from his enslavement on March 1, 1796.
Shortly after being freed he purchased a house in St. Georges on what is now Pilot Darrell's Square. On May 23 1796 he was made a Kings Pilot – elite pilots whose main responsibility was to guide British naval ships through the Bermuda reefs. For the remainder of his life, Mr. Darrell fought against discrimination and for equal rights for black people. He died on April 12, 1815 at age 66.
Click to enlarge photos:
Read More About