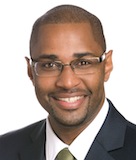 C#24 Warwick South East MP Lawrence Scott is offering his constituents the opportunity to weigh on on their views on pending legislation via an online survey.
Mr Scott said, "Parliament is just a 'click' away. A few pieces of key legislation will be debated in the House of Assembly during the next sitting of Parliament.
"These pieces of legislation include 1) Human Rights Act amendment to include sexual orientation and age; 2) Legalization of gaming [gambling].
"As your Member of Parliament and in the interest of providing you with the best representation possible, I am conducting an online survey to gauge your views on proposed amendments to legislation; your response would be appreciated.
"To respect and protect your privacy and ensure your anonymity I have created an online questionnaire – for instance the PLP believes that a referendum is the best way to decide the issue of gaming, we recognize that the OBA may decide this issue via a vote in Parliament instead. Thus getting your feedback in the event I have to vote for you. It is easy! Just "Click tick, pick and send!"
"When I rise, speak and vote in Parliament I will be guided by the indication I receive from the collective response of Constituency 24," concluded Mr Scott.
The questionnaire will be open until June 1st 2013 [closing at 12:00am] For those residents who do not wish, or are unable, to participate via the online poll there is a form [right click – here] that can be mailed to Mr Scott. You can access the online poll here.
The survey asks four questions:
Do you Favour or Oppose the Amendment to the Human Rights Act to include protection against discrimination based on sexual orientation?
Should the Amendment to Human Rights Act include protection against discrimination based on age?
Are you in Favour or Oppose to legalization of Gaming in Bermuda?
Are you in Favor or Oppose to the decriminalization of Marijuana?
Mr Scott is one of the younger MPs and is quite active online with his own blog, Facebook presence and Twitter feed.
Read More About
Category: All