Called the "Flying Dutchman" of World War Two after the mythical ghost ship which can never make port and is doomed to sail the oceans forever, when the giant French submarine "Surcouf" left Bermuda for the last time in February, 1942 she became the stuff of legend.
The fate of "Surcouf" — the largest submarine in the world at the time, boasting twin eight-inch guns in a rotating, waterproof turret and carrying an observation seaplane — has remained one of the most enduring mysteries of the Second World War [1939-1945] for more than 70 years.
Launched in 1929 and commissioned in May 1934, "Surcouf" — named after the French privateer Robert Surcouf — was designed as an "underwater cruiser", intended to seek and engage enemy shipping in surface combat.
The submarine was 361 feet long and carried a crew of almost 130 men.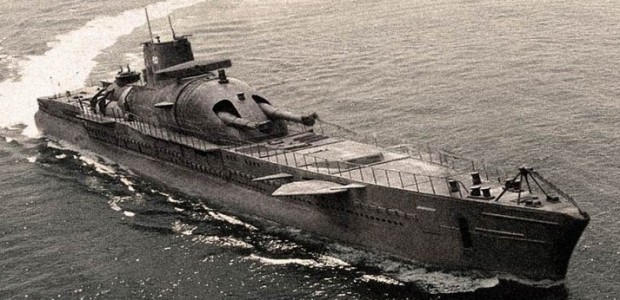 Aside from her eight-inch guns, "Surcouf" carried armaments which included eight 22-inch and four 16-inch torpedo tubes.
After France fell to Nazi forces in June, 1940 the "Surcouf" escaped to Britain and continued to fight for the Allied cause as part of the exiled Free French forces commanded by General Charles DeGaulle.
But while the submarine was fighting alongside the Allies between 1940 and 1942, she was plagued by rumours concerning her crew's loyalty. There were unconfirmed reports she had attempted to torpedo Allied shipping in convoys sailing from the US East Coast to Britain while stationed off Bermuda in May, 1941.
And when she disappeared eight months later after leaving Bermuda en route to the Panama Canal and French Tahiti, she left behind nothing behind her but more speculation.
Some conspiracy theorists have claimed a limpet mine was attached to her by officers of the British Secret Intelligence Service before she left Bermuda's Dockyard on February 12, one timed to detonate when she was out of local waters.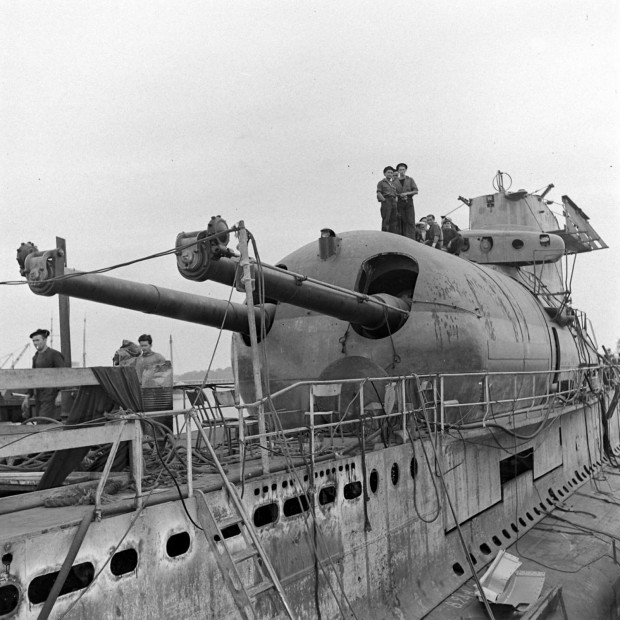 Other historians say she was accidentally sunk near the entrance to the canal by the US Sixth Bomber Group operating out of Panama after they mistook "Surcouf" for a German submarine.
The most widely accepted theory concerning her disappearance is that "Surcouf" — plagued by mechanical difficulties — collided with an American freighter named "Thompson Lykes" in the Caribbean Sea on the night of February 18, 1942.
But now former US Navy submarine commander Frederick Hallett — who has written extensively about "Surcouf" in maritime journals in recent years — has come up with a new theory concerning the submarine's fate.
"First, 'Surcouf' could not have been within 300 miles of the 'Thompson Lykes' at the time of the [supposed] collision," he posted recently on a World Two on-line forum. "We know when she left Bermuda. We know her maximum speed with only one shaft operating. There is no evidence of any sightings or attacks by anybody after she left Bermuda."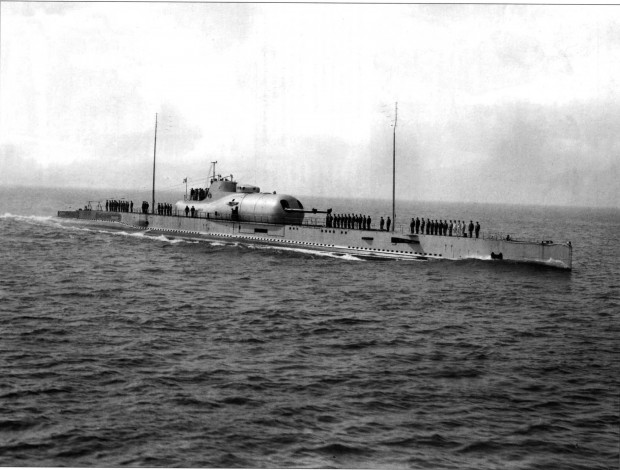 Mr. Hallett believes "Surcouf" instead bolted for the French Caribbean island of Martinique after leaving Bermuda, seeking sanctuary with its Vichy French administration.
"The British liaison party [which joined 'Surcouf' in Bermuda] was one officer and two ratings," he said. "My guess is that they were disposed of en route to Martinique.
"In letters home they had mentioned their suspicions that such a thing might happen."
After France was conquered by Germany in 1940, the country was divided into two administrative areas by its Nazi overlords: the northern region was occupied by the German military while a puppet regime loyal to Berlin was installed in the south, its de facto capital in the resort town of Vichy in central France.
Officially neutral for the rest of the war — although its leadership actively cooperated with the Nazis — Vichy France retained control of many overseas territories, including those in the Caribbean. The United States granted Vichy full diplomatic recognition, hoping to use American influence to encourage those elements in the administration opposed to military collaboration with Germany.
Vintage newsreel footage of "Surcouf" is included in this French news report
"I am interested in gathering any new evidence which could either reinforce or contradict my thesis that after leaving Bermuda she 'defected' from British Navy control and went to join her French Navy comrades in [Vichy-ruled] Martinique, remaining there until late May, 1942, when USS 'Blakeley', having had her bow blown off by U-156, limped into Fort de France," Mr. Hallett posted recently. "Knowing that her presence would inevitably be discovered, a plan was hatched to have her return to Vichy France, escorted by [the German submarine] U-69.
"Unfortunately, she was caught on the surface by a St.Lucia PBY [Catalina amphibious aircraft] who was searching for 'Blakeley's' attacker and sunk just before midnight on May 26 in a brilliant night attack for which the pilot received a Navy Cross."
According to Mr. Hallett, U-69 lingered at the rendezvous point, waiting for "Surcouf", until June 1, 1942, before returning to St. Nazaire alone, arriving June 25 after the longest patrol in the U-boat's history.
He can be reached by email at f.hallett@comcast.net
Read More About