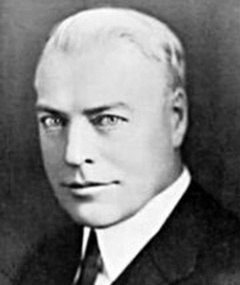 Bermudians proved to be remarkably camera-shy when Hollywood came calling in 1916, with pioneering silent film director Sidney Olcott having to resort to recruiting visitors staying at the island's hotels as bit part players in his production "The Innocent Lie."
Famous Players-Lasky — precursor to today's Paramount Pictures — dispatched Canadian-born Mr. Olcott [pictured here] and a shipload of actors and technicians to Bermuda in 1916 to film the romantic drama.
"We had a hard time getting extras until my assistant, William Scully, hit upon the bright scheme of posting notices in the hotel lobbies that guests would be permitted to take minor parts in a number of scenes we were going to stage.
"The idea worked beautifully. About 40 went with us and thanked us profusely for the privilege of working in a picture."
"The Innocent Lie" told the story of Nora O'Brien [Valentine Grant], a poor Irish emigrant, who on her arrival in American is rendered unconscious by a blow while searching for her brother.
Upon awakening she finds herself in the presence of the wealthy Winters family who have mistaken her for a niece visiting from Ireland.
She immediately protests her mistaken identity but is overruled by the doctor and the kind people about her. Their appreciation for Nora is embedded more deeply in the Winters' hearts when she rescues Teddy, their youngest son, from suffocating.
Scene from the silent movie "The Innocent Lie", filmed in Bermuda in 1916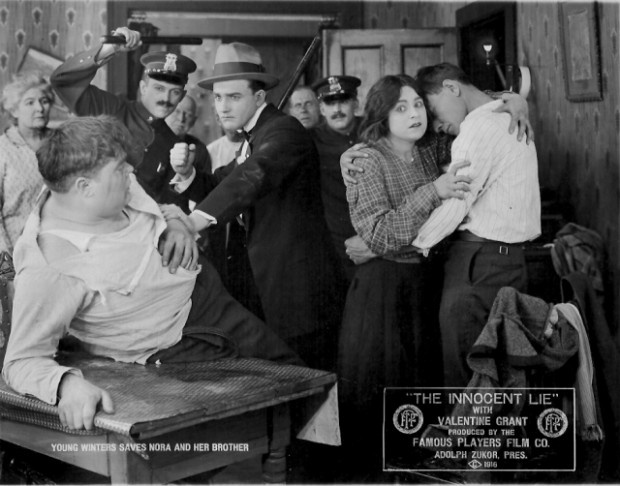 Just about this time Nora's brother, Pat, a daring thief and drunkard, is temporarily employed by the Winters as a chauffeur. He recognises Nora and attempts to force her to help him rob the family.
With the help of Egan — another one of the Winters' sons — Nora foils her brother's plan.
"There is much scenic beauty in this unusual Famous Player-Paramount Picture, and many episodes of great dramatic and emotional strength," said a critic for Virginia's "Daily Star" newspaper shortly after the film was released.
And another contemporary reviewer commented that "the exterior scenes were taken on the beautiful island of Bermuda", adding that the "Innocent Lie" was "a beautiful story and production. Don't miss it if you want to see a good picture …"
Now considered a lost film, "The Innocent Lie" was one of a number of silent productions shot in Bermuda in the early years of the 20th century. Other films included the historical drama  "The Relief Of Lucknow" [1912] and the mermaid fantasy blockbuster "Neptune's Daughter" [1914].
Read More About
Category: All, Entertainment, Films/Movies, History