The dock was completed as staff worked around the clock and local firms offered unsolicited help, with Bermudians pulling together to ensure our country looked good, Public Works Minister Trevor Moniz said yesterday [May 15] after the arrival of the Norwegian Breakaway. "Bermuda truly at its best," said the Minister.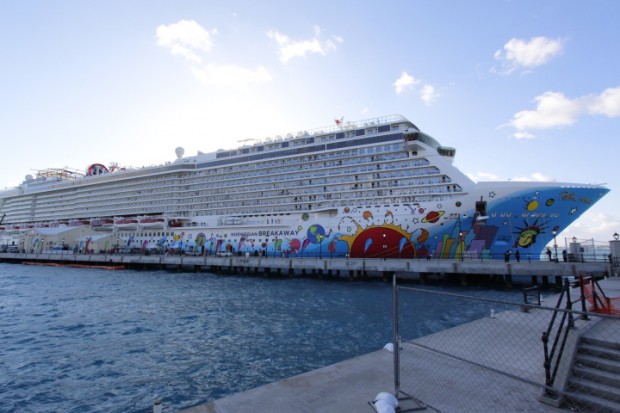 Speaking at the arrival, Premier Craig Cannonier said, "You can feel the enthusiasm and the excitement about this maiden voyage." Calling it a "floating hotel" and "floating city," the Premier went on to thank the Norwegian Cruise Lines for making its maiden voyage here and for dedicating this season to Bermuda.
Public Works Minister Trevor Moniz said, "The long anticipated arrival of the Breakaway has made international news with all eyes focused on Bermuda over the past few months to see if we could pull off the amazing challenge of having the Heritage Wharf completed on time."
"To accomplish a project of this magnitude and scale has required a great deal of team work from the Ministry's Engineers, the contractors, to the technical advisors. Truly a team, effort!
Minister Moniz continued, "To make up for lost time and continue forward with considerable progress, our personnel have worked diligently around the clock – spending considerable time away from their families to get the job done.
"Their unstinting and unyielding commitment deserves to be recognized and I would like to acknowledge those here with me today that made this happen. Well done to all of you!"
"It should also be noted that the progress we have achieved from the benefit of unsolicited help by local firms in facilitating the delivery of materials to the construction site," continued Minister Moniz.
"It has been highly gratifying to see Bermudians pulling together in a spirit of generosity to ensure our country looked good in the eyes of all watching from near and far. Bermuda truly at its best."
The 1063-foot long ship is the largest cruise ship to ever visit Bermuda, and was carrying around 3,700 passengers and a substantial amount of crew members.
The massive ship was piloted in by Bermuda's Rudy Cann, and Bermudians were among the passengers onboard the ship – which was welcomed by the Gombeys and steel pans.
The ship's design includes an open-air boardwalk and a wide range of indoor and outdoor venues on three dynamic decks, Norwegian Breakaway's entertainment will include three Broadway shows and a fireworks show on every cruise.
The ship features a total of 28 dining options on board and an Ice Bar, which will be kept at 17 degrees Fahrenheit and feature New York City-inspired specialty cocktails, as well as ice sculptures of the Brooklyn Bridge, Statue of Liberty and the Chrysler Building to pay homage to New York City.
Renderings of the Breakaway, courtesy of NCI. Click to move to next photo:
The top decks of Norwegian Breakaway feature the first Aqua Park at sea with five full-size water slides, including twin Free Fall slides, and a three-story sports complex that includes the largest ropes course at sea, a nine-hole miniature golf course, basketball court, rock climbing wall and more.
Tourism Minister Shawn Crockwell joked that he was so excited about the arrival, he put on a bow tie as it was "such a tremendous and wonderful achievement for Bermuda."
Minister Crockwell said over the course of this season, the Breakaway — which can carry up to 4,000 passengers — will make 22 trips to Bermuda. "We look forward to providing an excellence experience for all of our visitors," said the Minister.
Read More About