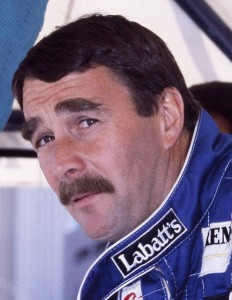 While the main focus at the NatWest Island Games has been on the athletes that are participating, one cycling official is drawing special attention not only for his participation in the event, but for the unrelated sport that he dominated more than 20 years ago.
Nigel Mansell, a former F1 racing champion from England, is serving as a cycling official with the team from Jersey, due in large part to the fact that his son, Greg Mansell, competes with the team.
Greg Mansell has won three bronze medals in these Games, one in the team road race, one in the team time trial and one individual medal in the criterium held last night [July 19] in Hamilton.
Jersey, a British Crown Dependency, has had a very successful Games overall, having won 68 medals so far.
Formula1.com describes Mr. Mansell as "Hugely determined, immensely aggressive and spectacularly daring, he was one of the most exciting drivers ever.
"With his win or bust approach – 31 wins and 32 crashes – he became the most successful British driver and ranks third in the world in fastest laps, fourth in wins and fifth in poles."
Footage From Nigel Mansell's First F1 Victory:

Read More About