[Updated with video] The swimming portion of the 2013 NatWest Island Games kicked off on Monday [July 15], with Bermuda's swimmers claiming three medals, including one gold.
Veteran swimmer Lisa Blackburn picked up two medals, winning the bronze in the 400m individual medley and another bronze in the 50m breaststroke.
Video of Lisa Blackburn's medal winning swim and medal presentation:
Blackburn's two medals were followed up with a gold medal win by the womens relay team in the 4 x 50m freestyle relay, with Lisa Blackburn, Rebecca Heyliger, Madelyn Moore and Ashley Yearwood swimming to victory.
Madelyn Moore in action: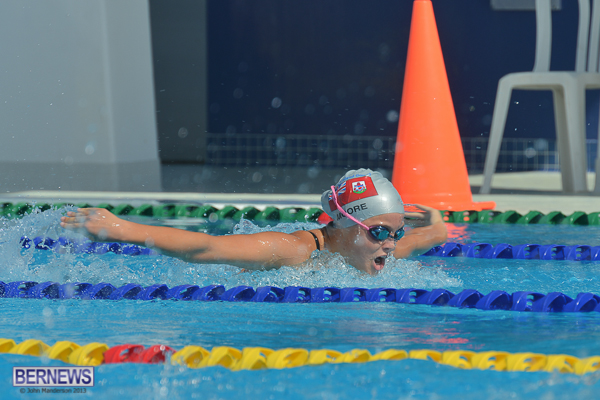 Along with our top senior swimmers, Bermuda is also fielding our top juniors, with Jesse Washington [14], Shannon Hassell [14] and Madelyn Moore [13] all holding their own against adult competitors.
Bermuda's Stephanie Myles was 8th in the 400m individual medley, Rebecca Heyliger was 6th in the women's 100m butterfly and Jesse Washington placed 7th in the men's 50m backstroke.
Philip Hagen in action: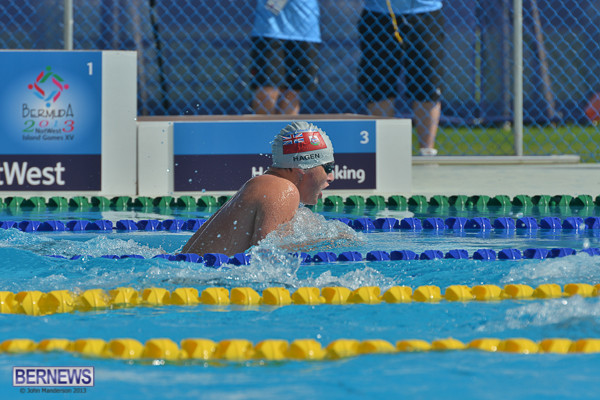 In the men's 1500m freestyle, Bermuda's Philip Hagen was 12th in 17:57.68, while Vaughn Rowse was 14th in 18:23.07. In the men's 4 x 50m medley relay, the Bermuda team of Andrew Beveridge, Benedict Parfit, Nicholas Patterson and Jesse Washington placed 5th.
Jersey was the big winner in the first day of swimming picking up 10 medals, Guernsey claimed 8 swimming medals, Cayman Islands took 4, while the Isle of Man and Shetland both won 3 swimming medals.
The slideshow below contains 60+ photos of the morning session on Monday:

Read More About