Bermuda's swimmers made a splash in the pool yesterday [July 16], breaking both the Bermuda National Record and the Island Games record on their way to winning a gold medal in the 4x50m medley relay.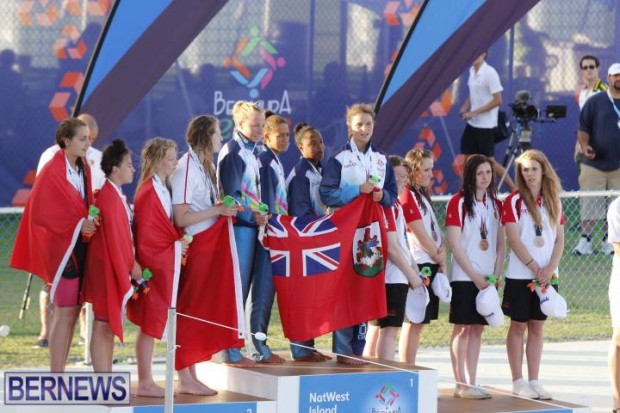 Lisa Blackburn, Rebecca Heyliger, Madelyn Moore and Ashley Yearwood's time of 1:58.16 broke the old Island Games record of 1:58.56 set by the Faroe Islands in 2009, and set a new Bermuda record as well.
This was the second relay gold medal for Bermuda, with the same four swimmers combining to win the 4x50m freestyle relay the day before.
"Hail to Bermuda" plays for the medal presentation:
So far Bermuda has a total of nine swimming medals in these Games, with the two relay medals plus seven individual medals.
Ashley Yearwood won silver in both the 50m butterfly and the 100m backstroke, Rebecca Heyliger won bronze in the 50m butterfly, Rebecca Sharpe won bronze in the 100m backstroke, and Lisa Blackburn won three bronze medals in the 200m breaststroke, 400m individual medley and the 50m breaststroke.
4x50m medley relay race:
This is the second Island Games record set by Bermuda's athletes this week, following after Tre Houston's gold medal winning performance in the 100m, which saw him break a 24 year old record in the preliminaries and then come back in the finals and break his own record set that morning.

Read More About