[Updated] Katherine Arnfield, Bermuda's representative at the Miss World competition, is set to compete against 130 other beauties from around the world, with the pageant is due to come to a close with a television special to air this morning [Sept 28] at 9am local time on channel 55 on Cablevision and channel 141 on WOW.
The finale, to be aired live from the Indonesian island of Bali, will wrap up nearly a month of events and competitions that began when contestants arrived in the country earlier this month, taking part in the official opening ceremony on September 8.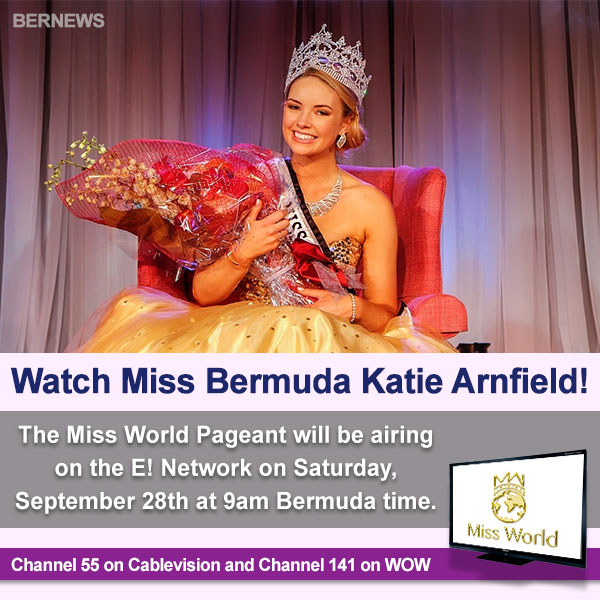 The events that have taken place during the course of the pageant, each aimed at narrowing down the pool of contestants, included beach fashion, a sports challenge, a talent show, a modeling contest, and a fashion design competition.
Ms Arnfield is the latest Bermudian to represent the country at the Miss World competition, with a long line of talented women having come before her.
The last Miss Bermuda to take the global title was Gina Swainson, who beat out the competition in 1979 in London, UK, eventually ranking as runner-up in the wider Miss Universe pageant later that same year. Bermuda honoured her victory with a series of postage stamps in 1980.
Take a look back at Miss Bermuda winners in the Miss Universe in the 1970s:
Miss World will air on Saturday morning at 9am local time on channel 55 on Cablevision and channel 141 on WOW.
Update 9.18am: A TV screencap showing Ms Arnfield during the introduction is below.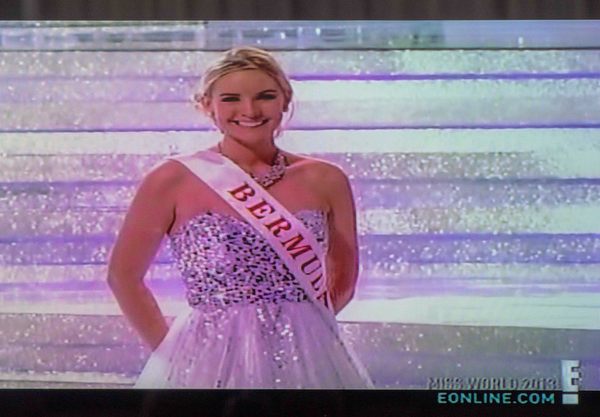 Video of Miss Bermuda being introduced:
Update 9.48am: They have announced the top 20, which did not include Miss Bermuda, and are now announcing the top 10 who are: Ghana, Jamaica, Spain, Indonesia, England, Nepal, France, Australia, Brazil, Philippines.
Update 11.20am: Miss Philippines Megan Young has been crowned Miss World 2013.
Read More About
Category: All, Entertainment, News, Style & Beauty, Videos