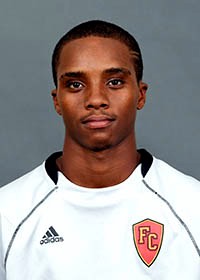 Bermudian Marco Warren won three sports awards in the United States this week, being named the TraveLynx Student-Athlete of the Week, the Disney Soccer/NSCAA Division II Player of the Week and the Peach Belt Conference Men's Soccer Player of the Week.
Warren is attending school at Flagler College in Florida, and has become the first Flagler player to receive the weekly award from the NSCAA.
Warren scored three goals this past week, including the two game-winners to help lead Flagler to a 2-0 week with both wins coming against nationally ranked opponents.
His header in the 66th minute helped power the Saints to a 2-1 win past top-ranked Lindsey Wilson College. He also lead the Saints to a 2-1 win, with both goals coming off of his boot, against Lander University.
The standout football player —  who is studying graphic design at Flagler College –  has represented Bermuda internationally on multiple occasions, and was part of our gold medal winning team at the 2013 Island Games.
Flagler's football team also boasts the talents of another Bermudian, with Triston Hall playing alongside Warren on the team. The two Bermuda players have combined to score a total of ten goals for Flagler in the fourteen games held so far this season.
Read More About