The Royal Challenge took place on Sunday [Oct 27] in the Royal Naval Dockyard marking the final Challenge obstacle event for the year.
In teams of three, 153 participants swam between the camber arms of the North Basin, straddled 6 ft walls, went through the ice bath, crawled beneath barbed wire at Malabar field, explored Casemates, encountered more [and higher!] walls along the ramparts and completed a log carry around Commissioner's House – to name only a few of the obstacles that made up the Challenge.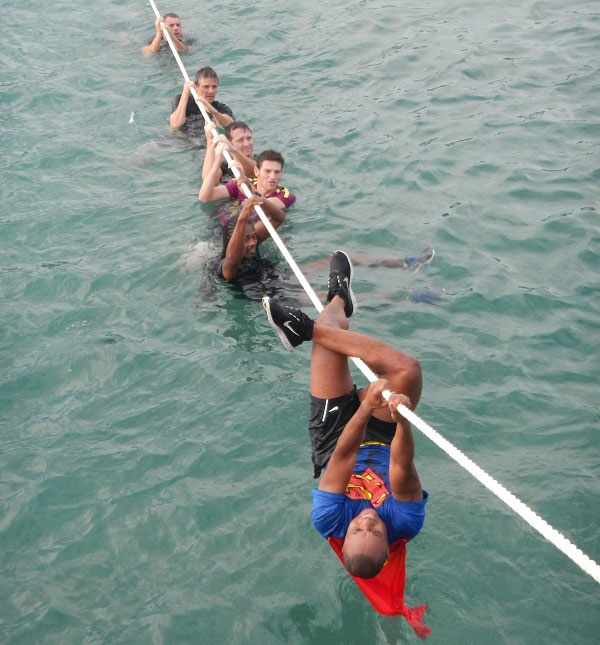 The winning teams were: FoxyDielEmma [Emma Norman, Meghan Diel & Amy Fox], which topped the female division; Strong-Butts-with-Wil [Spencer Butterfield, Nick Strong & Ryan Wilson] heading up the male division; Mandi and The Lions [Amanda Alker, Jon Barker & Shane Braley] of the co-ed or mixed team division; Flying Colours [Jay Riihiluoma, Fraser Hunt & Sarah Fields] led the corporate division; and, Sausage Time [Rosie Finnigan, Charlie Pilgrim & James Finnigan] romped home as the youth team.
"It was a windy, somewhat blustery day but the teams were really keen and incredibly enthusiastic!" said co-organiser Aideen Ratteray Pryse. "We have to thank our sponsors for their support, as well as the volunteers who provided key assistance along the route. Without them, the event cannot be staged."
Final donations are being gathered now and last minute pledges can be directed to Aideen Ratteray Pryse by contacting islandchallenge@logic.bm.
Read More About