[Updated] A march to protest the plans to close down the Lamb Foggo Urgent Care Centre in St David's is scheduled for tomorrow [Nov 22], set to leave BIU headquarters and make its way to the House of Assembly where a petition will be presented.
Citing financial losses in the $100,000 to $350,000 per year range, the Bermuda Hospitals Board [BHB] recently announced the St David's medical facility would be closing.
St David's MP Lovitta Foggo has spoken out against the closure, saying the OBA "turned its back on the people of the East End," while Shadow Health Minister Zane DeSilva said the OBA "neglected to mention" that the OBA Chairman, an OBA MP, and a former OBA MP are all members of the BHB board that made the decision.
Ms Foggo said that, "In 2012 the OBA said they would 'Establish an ambulance station that will serve St. George's and St. David's' now in 2013, no ambulance station and no Urgent Care Centre," and said "the OBA has turned its back on the people of the East End."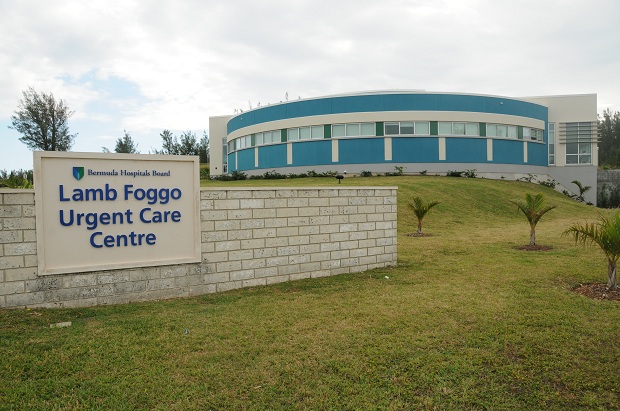 Health and Seniors Minister Patricia Gordon-Pamplin spoke on the BHB's decision to close the Lamb-Foggo Urgent Care Centre in the House of Assembly, saying "the business plan dictated that a minimum of 8,182 visits would be needed for this establishment to break even.
"The reality is that an average of 5,500 people used the facility, and the people of Bermuda were left to pick up the shortfall, not directly through the consolidated fund, but through the resulting higher insurance premiums and higher costs of health care.
The Minister continued, "The BHB has determined that this money can be better used to support other vital services that are needed nationally, such as Dialysis, Oncology, Diabetes and the Emergency Department.
"Government and all Bermudians want to see a safe, high-quality, patient-centered Hospital continue to provide acute-care services for all. The BHB is the only entity with the mandate to do so."
Update 10.47am: The Government said that "In light of the strong public interest" in the Lamb Foggo Urgent Care Centre closure issue, Minister Gordon-Pamplin requested that the UCC Business Plan document, which was tabled in the House of Assembly on Friday and includes detailed cost analyses and government grant requirements for the operation, be released. The report is not dated, however is understood to be from around 2007 or so.
The UCC Business Plan [which covers and east and west end centres] follows below [PDF here]:
Update 7.18pm: The Health Minister announced that she has directed the Bermuda Hospitals Board to keep the Lamb Foggo Urgent Care Centre open until an "alternative plan is worked out that meets the needs of the people of the East End," however the march is still planned for tomorrow at 12 noon.
Read More About