[Updated with video] This morning [Nov 10] the East End paid tribute to Bermuda's war veterans with a wreath-laying ceremony to honour those that fought in the two World Wars, including many who made the ultimate sacrifice.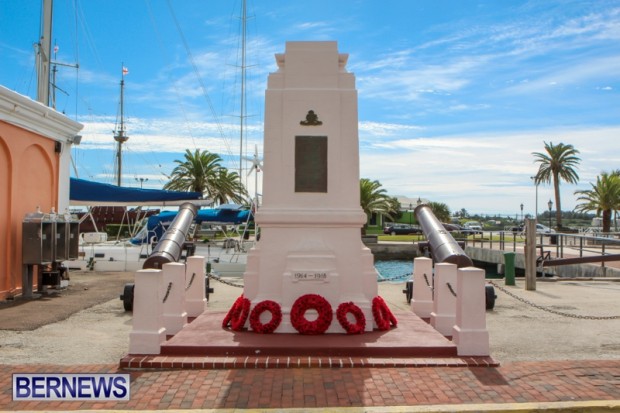 The ceremony was held in St George's Town Square, and wreaths were laid by Governor George Fergusson, Premier Craig Cannonier, Deputy Opposition Leader Derrick Burgess, St George's Mayor Garth Rothwell, Honourary Colonel Eugene Raynor, President of the Bermuda Branch of the Royal Artillery Association Neil Paynter, Major Henry Campbell and representatives from the Bermuda Militia Artillery and the Bermuda Militia Infantry.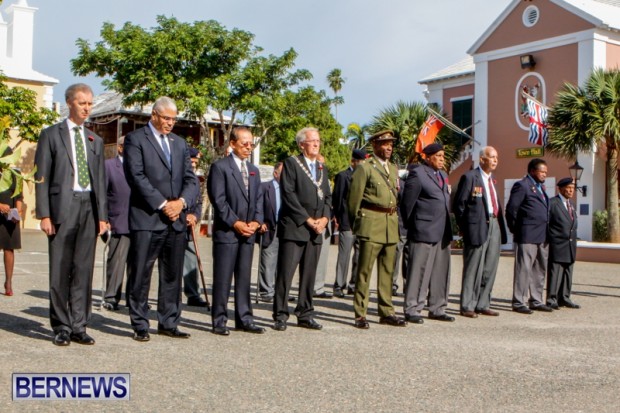 Reverend David Raths from St Peters presided over the ceremony, which also involved the Sea Cadets, bagpiper David Frith, Major Barrett Dill who played the bugle and of course the war vets themselves.
In the two World Wars, 1914 – 1918 and 1939 – 1945, around 600 Bermudians volunteered and served overseas in various military contingents, many making the ultimate sacrifice. There are no Bermudian WWI war vets left alive, however WWII vets marched proudly today.
Canadian visitor Judi Partridge and her husband are visiting Bermuda so missed the ceremony back home, however attended today's ceremony in St George's.
Mrs Partridge said she felt "blessed" to attend the service and said her father was stationed in Bermuda back in WWII. She said, "He always spoke very lovingly of the people here, and I can see why."
Click to enlarge photos:
Read More About