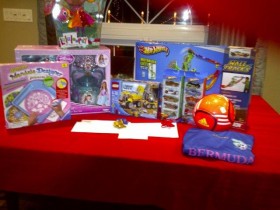 The Wade family from Broken Hill Lane, Smith's decided to help another family out this year over the holiday season, and set about collecting donations from members of their own family to extend to another family in need.
Spearheaded by Fawn Burgess and Pam Wade, they organised a collection from each member of the family which resulted in hundreds of dollars being raised.
The family then purchased a number of items for the family in need, and ended up giving them toys for the children [pictured], a $200 gift certificate to The Market Place, a $200 gift certificate to Gibbons Company, a $100 gas voucher, a bag full of groceries and over $100 in cash.
Read More About