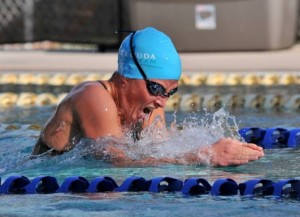 Bermuda's Lisa Blackburn took part in the New England Masters SCM Championship Meet in Boston on December 14 and 15, racing her way to five gold medals and four meet records.
Ms Blackburn said, "I am really pleased with my performances from this weekend. On Sunday, I competed in three races in the span of 60 minutes.
"This is a great way to improve my ability to race under pressure and while fatigued. I am very pleased with how I performed considering the short amount of rest I had between events.
"It is great to achieve swim times that are on par with the times that I swam at the end of the summer season last year.
"My results indicate that I am in good form and that I am on track at this point in the season to qualify for the Commonwealth Games and the CAC Games in 2014."
Ms. Blackburn's results at the New England Masters SCM Championship Meet included:
50 Breast 33.61 Meet/Zone Record
100 Free 1:00.35 Meet/Zone Record
100 IM 1:05.77 Meet/Zone Record
100 Breast 1:12.35 Meet/Zone Record
50 Free 27.52
Ms. Blackburn's next competition will be the Naples Open in January 2014.
Read More About