The Bermuda Society of Arts is getting set to host a four-part workshop that will cover how to produce great digital photography with an Apple iPhone or iPad.
The workshop will be hosted by Theresa Airey, an international photographer and teacher with an MF in Photography and Fine Art.
The four sessions will cover the following topics:
February 1: Participants will be shown a PowerPoint presentation to introduce them to the concept of iPhone/iPad art, with added information about social media and its related uses. The session will close with a trip to Par La Ville Park.
February 8: This session will open with a talk on composition, followed by an introduction to apps, and an overview of how to transfer images to and from a computer. Participants are required to bring a laptop from home for this session.
February 15: Getting into the meat of the workshop's coverage, this session will cover how to create images on iPhones and iPads by using apps, with lots of tips and individual help available.
February 22: This talk will cover outputting images, increasing resolution of images, using effects through apps to improve images, and fine art printmaking for digital art reproduction.
The four sessions will take place on four consecutive Saturdays from 10.00am through 4.00pm, starting on February 1, 2014. Each participant will need to bring their iPhone or iPad to each session.
The cost to take part in this workshop is $400 for members, or $440 for non-members.
The registration form, seen below, can be downloaded directly here [PDF].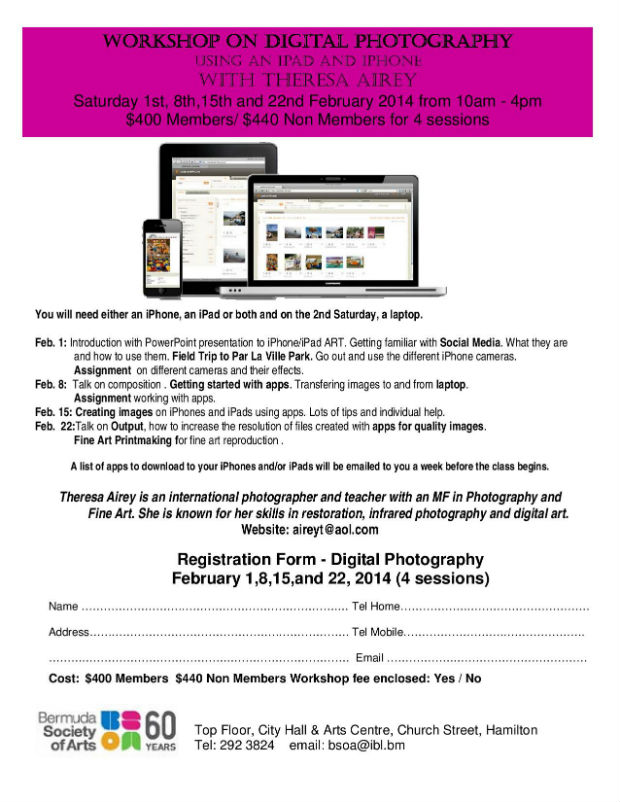 Read More About
Category: All, Entertainment, technology