The PartnerRe Art Lecture Series is getting set to present Dr. Lisa Farrington, Professor and Founding Chair Emeritus, Department of Art & Music, John Jay College of Criminal Justice, a returning guest who previously spoke about 'The World Before Racism' in October 2014.
This latest talk, titled 'A Spirit of Triumph: Haitian Art and Religion,' will be held on Friday, May 15 at the Earl Cameron Theatre at City Hall, with reception at 5.30pm and the lecture beginning at 6.00pm.
The event poster says, "This talk will examine the circumstances that made it possible for a rich and complex visual tradition to arise in Haiti during the mid-20th century.
"Haitian cultural and political history is an integral part of the talk, beginning with the native Americans who resided on the island before the arrival of Columbus in the 15th century and the remnants of native American art, home design, culture, and language that continue to influence Haiti today."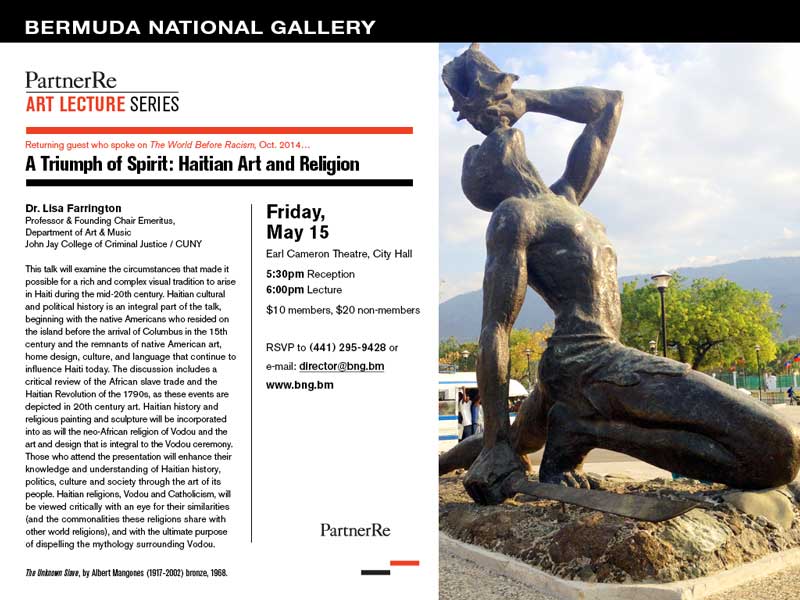 The discussion includes a critical review of the African slave trade and the Haitian Revolution of the 1790s, as these events are depicted in l0th century art.
"Haitian history and religious painting and sculpture will be incorporated into as will the neo-African religion of Vodou and the art and design that is integral to the Vodou ceremony.
"Those who attend the presentation will enhance their knowledge and understanding of Haitian history, politics, culture and society through the art of its people.
"Haitian religions, Vodou and Catholicism, will be viewed critically with an eye for their similarities [and the commonalities these religions share with other world religions], and with the ultimate purpose of dispelling the mythology surrounding Vodou."
Tickets to the talk costs $10 for members and $20 for non-members; a spot can be RSVPed by calling 295-9428 or emailing director@bng.bm.
Read More About
Category: All, Entertainment