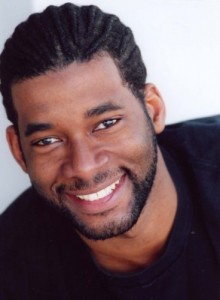 Bermudian actor Daren A. Herbert is getting set to headline the Vancouver premiere of Floyd Collins, a stage play that follows the true story of a cave explorer who becomes trapped underground, leading to intensive rescue efforts and one of America's first true media frenzies.
According to a report in BroadwayWorld.com, "Patrick Street Productions [PSP] and Talk is Free Theatre present the Vancouver premiere of the bold and brilliant Floyd Collins at the newly opened York Theatre on Commercial Drive, March 11-30, 2014.
"Based on the haunting true story of an American explorer and entrepreneur, this riveting musical is composed by Adam Guettel, who also wrote PSP's 2011 award-winning hit, The Light in the Piazza. Directed by PSP Co-Artistic Producer Peter Jorgensen, Floyd Collins features a star-studded cast including Arctic Air's Kevin McNulty and Republic of Doyle's Krystin Pellerin, led by the dynamic Bermuda-born Daren A. Herbert in the title role.
"The musical's narrative is based on real-life events that played out in Kentucky in February 1925. Floyd Collins is a 37 year-old cave explorer who becomes trapped while navigating an underground network he hopes to develop into a tourist attraction. Pinned beneath the ground, his family and fellow cavers begin a rescue attempt.
"When it becomes clear that his extraction will not be easy, these efforts escalate and intensify, while a mob of reporters gathers above ground, initiating one of America's first nation-wide media frenzies.
Born and raised in Bermuda, Daren Herbert has worked on stages and sets on the island, in Canada, the US, Korea and Japan. He earned a 2010 nomination for the Canadian theatre's coveted Dora Award for his work in "The Toxic Avenger Musical" and won a Los AngelesDrama Critics Circle Award as well as an NAACP Theatre Award nomination, for work in the West Coast premiere of "The Wild Party".
His film and TV credits include "Dreamgirls", "2012″, "Hot Tub Time Machine" and "This Means War". A Warwick Academy graduate, Mr. Herbert Daren holds a BFA in Theatre Arts from the University of the Arts, Philadelphia, as well as an MFA in Drama from the University of California Mount, St, Irvine.
Read More About
Category: All, Entertainment