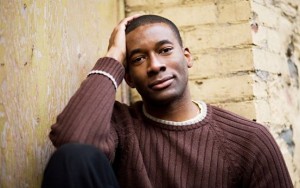 Bermudian actor Daren A. Herbert has been honoured by the Toronto Theatre Critics Awards, winning the award for 'Best Actor in a Musical' for his role in The Wild Party, produced by Acting Up Stage Company with Obsidian Theatre.
Mr. Herbert took on the role of Burrs in the production, a vaudeville performer who makes his living in blackface, with the actor saying of the role, "I don't think it's that far removed from my own experience.
"I've never gotten to play a part using my own accent. I'm always asked to sound like somebody else."
The Toronto Star said, "Fiona Reid, David Ferry, Trish Lindstrom and Daren A. Herbert were among those honoured when the Toronto Theatre Critics Awards were announced on Wednesday, an annual salute to excellence in the city's theatre scene over the past 12 months.
"The awards are voted on by the critics from the Toronto Star, the Globe and Mail, the National Post, NOW Magazine and Torontoist."
Mr. Herbert is currently starring in the unique role of the entire cast in a production of Stop the World, I Want to Get Off, which officially opened on May 22 and will run until May 30.
Read More About
Category: All, Entertainment, News