Since the introduction of the 10% Wednesday discount by local grocers, staple store item prices have stayed at a steady level, according to the Ministry of Home Affairs.
A spokesperson said, "The Ministry advised that Consumer Affairs was tasked with monitoring the prices of those grocery stores that participated in the 10 percent Wednesday discounts. This was in response to consumers' concerns that prices would be hiked in order to offer 10 percent.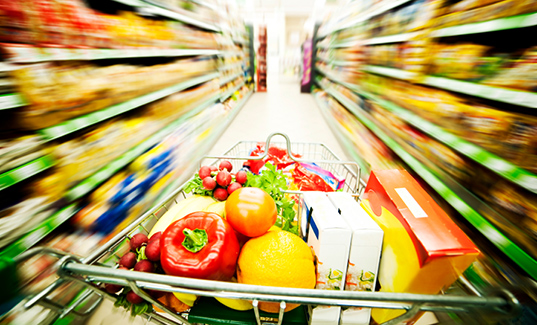 "The public will recall that as one of Government's Throne Speech, pledges, it announced that participating grocery stores would offer a ten  percent discount on Wednesdays as a small step towards helping to ease the financial burdens facing Bermudians.
"From November 2013 – January 2014 representatives from Consumer Affairs monitored standard store item prices on a weekly basis.
"A shopping basket list containing 60 products included standard items such as bakery, dairy, cereals, meats and fish, oils and fats, fruits, vegetables, sugar and confectionery, prepared foods and snacks and non-alcoholic beverages.
Today Minister of Home Affairs Michael Fahy said the findings "reveal that grocers were not increasing prices on the Wednesday discount day."
Minister Fahy said, "We undertook to conduct a monitoring exercise because we wanted to evaluate if there was a fluctuation of prices during the Wednesday discount day.
"Other than the usual price increase for certain products, there was no evidence to indicate any significant increases occurred on products listed on the staple food basket list. In fact, what the study did reveal was that it would not be in the grocery stores' best interests to engage in potential price hike practices which could be in breach of Bermuda's laws."
The Minister continued, "If there were price variances, it was partly due to local suppliers offering different deals and discounts to the supermarkets at various times.
"Additionally costs have been affected by rising food prices globally, due to extreme weather which has affected harvests worldwide.
"Shortages drive prices up. As an example, the report revealed that the price of beef is expected to rise as ranchers suffered great loss of cattle and feed crops due to severe weather and those that survived were taken to market earlier.
"This has a global effect – less meat means higher price per pound due to a cattle shortage.
"As another note, Bermuda imports most of its food supply. This transfer of goods depends on the cost of oil. If oil prices go up, so does the cost of shipping, which is absorbed as much as possible by the supermarkets."
Minister Fahy concluded, "It was a timely report, as we recognise that there was a degree of skepticism in the community regarding this initiative, and I thank Consumer Affairs for their efforts.
"We were pleased to see that since the introduction of our Throne Speech pledge that grocers were not being unscrupulous in raising prices, and consumers were able to genuinely benefit. So, we view this as a demonstration of shared sacrifice on the part of our local grocer partners.
"It is hoped that in the near future we can announce additional incentives that will benefit Bermudians."
The Minister advised that Consumer Affairs will continue to monitor food prices.
Read More About