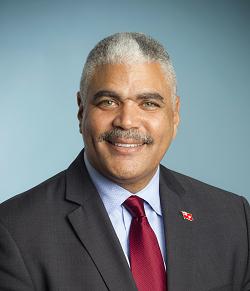 [Written by Premier Craig Cannonier] My colleagues and I have said on more than one occasion that the PLP leadership's Number One priority is to take down the OBA Government. Friday's circus in the House of Assembly was the latest chapter in their party-before-country strategy.
This misguided approach to our national politics starts at the top, with Opposition Leader Mr. Marc Bean.
From early days, Mr. Bean has made clear his toxic view of the Government. He has described us as "demonic" and "practitioners of the Dark Arts" – extreme words that reflect a very twisted and unbalanced view of the elected Government of Bermuda.
On Friday night, he was at it again with references to the smell of "sulfur" after some of my colleagues had spoken.
The Opposition Leader's colleagues have fallen into line with his view, even taking their politics to an international online newspaper where they have described us as wicked, anti-democratic, dictatorial, deceitful…
For today's Opposition, there are no limits. Friday's House of Assembly statement by the Opposition Leader was just the latest step in his party-before- country strategy.
I must admit that I was shocked by his full-blown attack on my personal integrity and that of my colleagues, but not by his effort to sow division within the ranks of the OBA team. I want the people to know that their OBA Government is unified and focused on getting Bermuda back on track. Nothing Mr. Bean says will change that.
The Opposition Leader's allegations were so incredibly below-the-belt and so nonsensical that to address any one of them in detail gives them credibility they do not deserve. That I will not do. Instead, what I will say to the people of Bermuda is this: Mr. Bean's allegations are simply untrue.
That he also used his Friday remarks to slur the reputations of two of my colleagues just adds to the reprehensible quality of his politics. Ministers Mark Pettingill and Shawn Crockwell are dedicated public servants doing good work for the country. Yet they have been targeted by the PLP leadership from the very start of our time in office. I want Bermuda to know that I stand by them, as do all my fellow OBA Ministers and MPs.
The PLP will attempt to prolong this engineered controversy and we will deal with it as we must. But it does not help the work of the Government to restore confidence in the Island; confidence that is vital to the future well-being of thousands of Bermudians who struggle every day to make ends meet.
Bermuda's recovery from the maladministration of recent years is at a very delicate stage, requiring the best efforts from all of us – a national effort – to bring it about. We need everyone on deck pulling together. We don't expect the Opposition to agree with all of our strategies and decisions, but the people of Bermuda have a right to expect Opposition criticisms to be constructive and substantive.
On a final note, I am sure that Friday's House of Assembly session dismayed members of the public who were listening to the broadcast. I am sure many people were upset to hear the level to which so-called debate has fallen, despite the Speaker's efforts to maintain acceptable standards of behaviour.
As Premier, I will make sure the people's business remains our focus as we move the country forward toward safer streets, great schools and new jobs for those out of work. The people of Bermuda want us to succeed, but it must be clear to all by now that Mr. Bean and his team do not.
- Craig Cannonier
Read More About