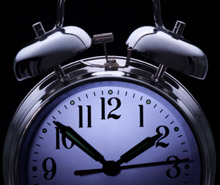 It's time for Bermuda to "spring forward" once again. This year, daylight saving time will begin on Sunday [Mar 9] at 2am, requiring that everyone on the island remembers to set their clocks ahead an hour.
While you're at it, the Bermuda Fire Service reminds residents to check the batteries on their smoke and carbon monoxide alarms as well.
Daylight saving time is the practice of advancing clocks so that evenings have more daylight and mornings have less.
Typically, clocks are adjusted forward one hour near the start of spring and are adjusted backward in autumn. Time will fall back to standard time again on Sunday, November 2, 2014, when daylight saving time ends.
If you are confused about "what time is is" check this link for the present time in the Atlantic Zone/Bermuda.
Read More About