Around 200 soldiers yesterday [Apr 13] finished a two-day exercise designed to test every unit of the Bermuda Regiment.
Soldiers carried out day and night manoeuvres in the east end of the island, culminating in high speed boat assaults on Paget and Cooper's Islands as part of an exercise dubbed April Advance.
Private William Pitt said: "There ain't nothing like it. I enjoy it for the experience – and you get to meet new people and create lifelong friendships."
On guard: Regiment soldiers prepare to engage 'enemy' forces in a major weekend exercise.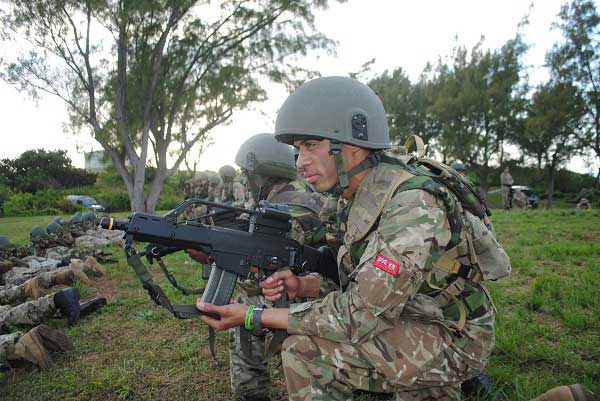 The 27-year-old airbrush technician from Warwick, who volunteered for the Regiment, added, "It doesn't matter where you come from, where you are, what your lifestyle on the outside is like – and there's only one colour here. Green."
Private Deon Jones, 22, a landscaper from Warwick, said he only finished recruit camp in January.
He added: "I do camping, so this isn't too tough. And I knew what was coming because my brother did this. I do what I need to do."
And Private Ronald Simmons, from Pembroke, said he planned to pursue a full-time military career in the UK or US.
 A Regiment Sergeant uses her initiative to improvise a tent using a poncho and spare chairs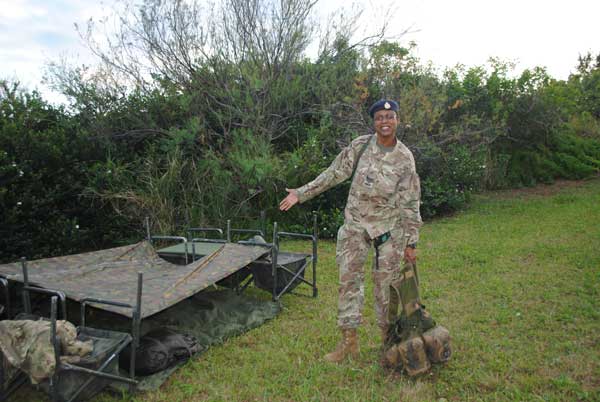 The 31-year-old from Pembroke, who is currently looking for a civilian job, added, "I like the army life – I love it. I volunteered because I wasn't always a good kid. The Regiment was a life changer – I got tired of the streets, so I joined the army."
Private Gere Scraders, 22, a restaurant cashier and Bermuda College student who is planning to become a teacher, said her Regiment experience would help her civilian career.
She added, "It's more experience of life – and hurting feet and the lack of sleep is tough as well. But I'm still enjoying it."
Sergeant Major Jeff Patterson, who runs Boat Troop, masterminded the transport of soldiers in five boats at high speed in the dark.
He said, "They seemed to enjoy it – they've all got smiles on their faces. But it's hard not to enjoy yourself on a boat."
 A Regiment Land Cruiser delivers food to soldiers in the field.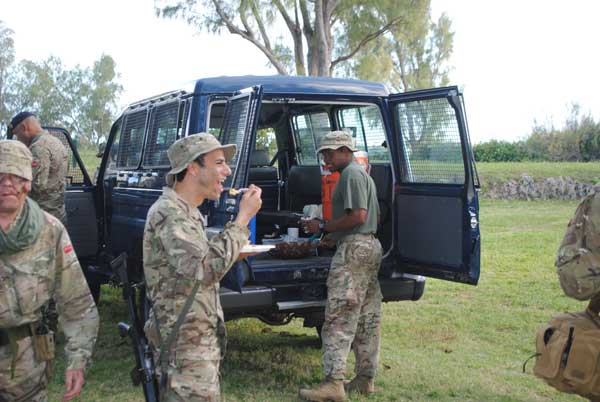 Sgt Maj. Patterson added that large-scale exercises allowed all the units to work together and improved teamwork and morale.
He said, "If all the sub-units just train by themselves, it's not as good. This gives the other parts of the Regiment the chance to see what we do – and it means they don't have to walk everywhere either."
Regiment Commanding Officer Lt Col Michael Foster-Brown, who took charge of the HQ team in the field during the exercise, said, "It's been a very intensive 36 hours with a scenario that there are insurgents in the east end of the Island."
And he added, "They may not get to employ these skills directly, but the skills involved – command, control and coordination, the small-scale team skills and planning – are all hugely transferrable to everything else we do."
He said, "All our training is aimed at creating a foundation of teamwork and trust for a range of Regiment responsibilities, like disaster and hurricane relief to oil spills and internal security."
Troops from A Company prepare to launch an amphibious night time attack on Paget Island.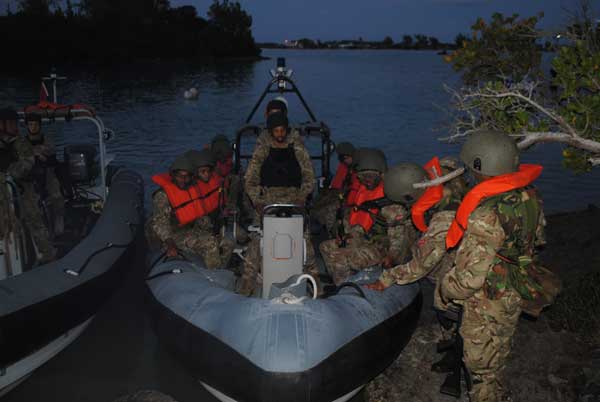 Lt Col Foster-Brown added that the training was also vital to ensuring troops hit their peak for Maple Thunder, the Regiment's annual overseas exercise, to be held in Canada in May.
He said, "Hopefully, people will go back to work on Monday morning enthusiastic about what they've done, which will lead to better retention and recruitment."
Read More About
Category: All