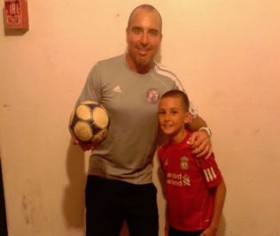 Following the success of the CP Athletic Development contingent at the October player identification event, local youth football player Daniel Cook [pictured left] has returned to Boston to participate with the official U.S. Youth Futsal East Region team. Daniel was ranked number two out of the players who participated in the East region trials last year.
A spokesperson said, "CP Athletic Development has again been selected to prepare Daniel for this rigorous tournament by fine tuning skills specific to the game of futsal."
Founder of CP Athletic Development Peter Rickards said, "Daniel is a focused and hard-working player. We were able to concentrate on aspects of his ability that are key to his progression in the game of futsal.
"Having worked directly with U.S. Youth Futsal's Technical Director Keith Tozer on several occasions, our preparation included techniques that I know the U.S. coaches will be looking for."
"CP Athletic Development was founded to provide athletic coaching to athletes from all sports, with the ultimate objective of creating overseas education and scholarship opportunities."
"Our network of worldwide schools and team Technical Directors is growing rapidly," continued Mr. Rickards. "We have established a formal athlete evaluation process for our network of scouts."
"CP Athletic Development is currently working with football and futsal players, a cyclist, and a youth runner, and is actively preparing a contingent of five for interviews and trials at the Baltimore Blast under the direction of Assistant Coach David Bascome."
Read More About