The Bermuda Shakespeare Schools Festival [BSSF] is getting set to host their seventh annual event on the occasion of William Shakespeare's 450th birthday. The event's 2014 programme focuses on youth, culture, and creativity and will take place at the Earl Cameron Theatre at City Hall from October 21 through October 23, 2014.
The event's opening day on October 21 will see Saltus Grammar School perform The Tempest, Somersfield perform The Taming of the Shrew, and Cedarbridge Academy perform Othello, beginning at 7.00pm.
On October 22, The Berkeley Institute will perform Antony and Cleopatra, Bermuda High School will perform Much Ado About Nothing, and Warwick Academy will perform Twelfth Night, beginning at 7.00pm.
On October 23, a gala evening will be held at 7.00pm, featuring 15 minute excerpts from each of the six plays.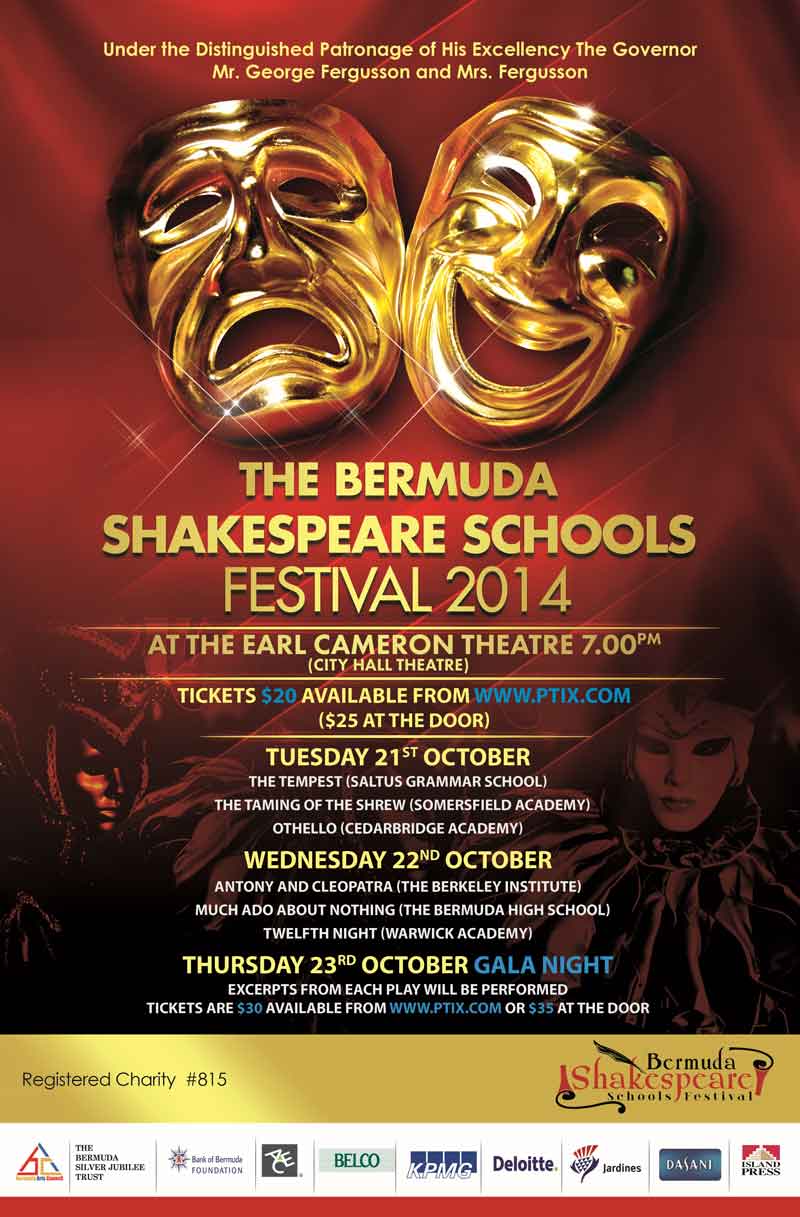 A spokesperson said, "2014 marks the 450th anniversary of William Shakespeare's birth, which is being celebrated the world over. In Bermuda, the BSSF is celebrating by staging the Festival at the Earl Cameron Theatre for the first time.
"This gives full recognition to the development of the Festival as an established part of the arts scene and offers an appropriately central and professional setting for our dedicated and talented students.
"The Festival's first two nights will each consist of three abridged [45 minute] Shakespeare plays. The gala evening, a special celebratory event on October 23, presents fifteen minute excerpts from each of the six plays, offering an opportunity to delight in vastly different presentations, from tragedy to pathos to comedy.
"BSSF also wishes to highlight Bermuda's long-established cultural embracing of the works of Shakespeare. Records, including those from the press, schools, books, and anecdotal stories, are rich with memories of learning, recitations, productions and festivals, from the present back into at least the 19th century.
"Settings for productions have been myriad and spectacular, including Fort St. Catherine with Charlton Heston as Macbeth, The Tempest in Tom Moore's Jungle, A Midsummer Night's Dream at Prospect Amphitheater, and an annual festival at Somers College in Southampton.
"Please join us at the Festival for wonderfully entertaining and uplifting presentations by students ages 14 to 18. Join us also to renew your personal memories of Shakespeare's language, to immerse again in the drama of the stories, or simply to become acquainted for the first time with the works of the world's greatest dramatist."
Tickets for October 21 and October 22 cost $20 and are available from ptix.bm, or pay $25 at the door, while tickets for October 23′s gala evening cost $30 each from ptix.com or $35 at the door.
Read More About
Category: All, Entertainment