Digicel flew in a team of eight people today [Oct 19] to assist with repairing its network following Hurricane Gonzalo, with the technicians flying in from the head office in Jamaica, and landing earlier this afternoon.
Alistair Beak, CEO of Digicel Bermuda says; "The additional expertise will triple the current team of skilled riggers and installation engineers to allow for a much faster network recovery.
"This is an experienced team who will hit the ground running tomorrow. The additional crew and equipment, will allow for teams of five to be split across the island with every effort of delivering 100% capacity by the end of week.
The technicians who flew in from Kingston, Jamaica to help the restoration work: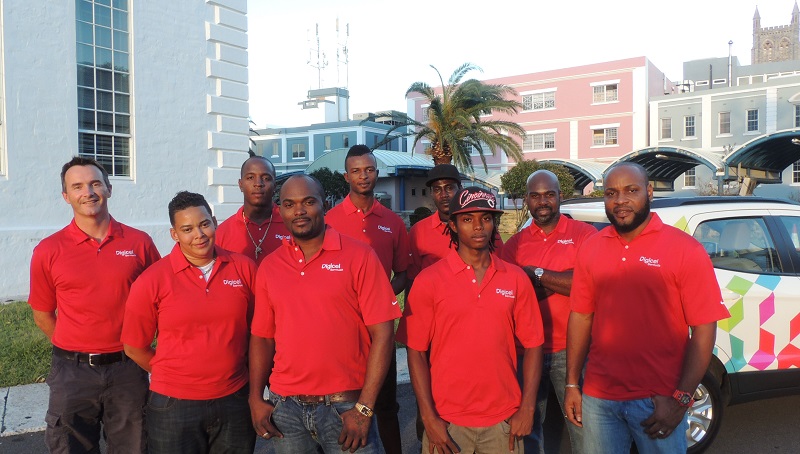 "We thank all of our customers again for their patience and understand how important mobile connectivity is to the people of Bermuda for both business and pleasure so we are focused on delivering on our promise of offering the best network and customer satisfaction.
"Kudos to our technical team for working around the clock to bring our network back to 80% only 36 hours after such a major storm, however despite this great achievement we still have many customers who are not getting the service they expect."
Mr. Beak continues; "Our customers should have noticed good improvement today with many sites coming back online, particularly in the eastern end of the island where we have restored sites in Flatt's, Shelly Bay, St. George's, St. David's and the airport.
"We are aware that there are still sites down in these areas and other isolated spots throughout the island which we are working to repair tirelessly.
We believe this private jet we saw come in this afternoon may have been carrying the Digicel technicians
"For those who have an Internet connection, we will continue to issue updates through Facebook – Digicel In Bermuda and via @DigicelBermuda on Twitter and Instagram. Additionally, our Customer Care team remains available on 500-5000.
"Again, a big thank you to all of our customers for their patience and understanding as we look to restore full network capacity," added Mr. Beak.
For all our coverage of Hurricane Gonzalo click here, and for our live blog where we are bringing you continuous live coverage of Hurricane Gonzalo click here.
Read More About
Category: All, Business, News, technology