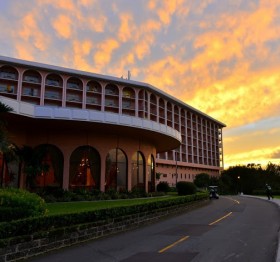 [Updated] The Fairmont Southampton said they have returned to business as usual following Hurricane Gonzalo, with full services having resumed at the resort, with recreational facilities such as Willow Stream Spa and Turtle Hill Golf Club open.
In addition, the resort is offering reduced rates for those who wish to move into the hotel until their power is restored.
A spokesperson said, "While there are some non-structural issues to address, clean up is well underway and The Fairmont Southampton did not sustain significant damage as a result of Hurricane Gonzalo.
"To ensure the safety and security of its guests and colleagues, the hotel team followed a comprehensive hurricane preparedness plan, and the property was well equipped to handle the storm.
"Many homes on the island of Bermuda have lost power and island officials are currently assessing any other damage.
"To assist local residents, The Fairmont Southampton is offering reduced rates for those who wish to move into the hotel, until power is restored. Fairmont has also advised its guests that airport operations at L.F. Wade International Airport will open at 5 pm today."
"With Hurricane Gonzalo behind us, the fall continues to be a wonderful time to visit Bermuda," said George Terpilowski, managing director, Fairmont Bermuda.
"It is business as usual at The Fairmont Southampton. We encourage anyone considering a visit to Bermuda to move forward with their travel plans and hope to see the guests whose trips may have been cut short or postponed back on the island very soon."
For all our coverage of Hurricane Gonzalo click here, and for our live blog where we are bringing you continuous live coverage of Hurricane Gonzalo click here.
Update: The special rates start from $179 per night. Taxes, gratuities, & resort levy are additional.
Read More About