With an extension bringing the TechAwards 2014 People's Choice Award voting through Friday, November 7 due to the distractions created by the passing of Tropical Storm Fay and Hurricane Gonzalo, you can still cast your vote for your favorite nominees for three more days.
The "People's Choice" Technology Innovation Award will be presented to the business, individual, or organization which has been nominated, and receives the most votes by the public.
Nominations come in for any of the following criteria: the best business solution using technology; the best customer service from a technology company, the best local e-commerce web site; the best use of technology by an organization or school, the best local mobile application, or the best Bermudian social media platform.
A spokesperson said, "The public is the driving force in the Department of E-Commerce's efforts to recognise the outstanding achievements being made in Bermuda's information technology industry.
"The process begins with the public submitting nominations for Bermuda's best in technology at the TechAwards website.
"Nominations are being sought for 5 categories: 1] Innovation of the Year – International, 2] Innovation of the Year – Local, 3] Innovative Youth Program of the Year, 4] Mobile Application of the Year and 5] People's Choice Award."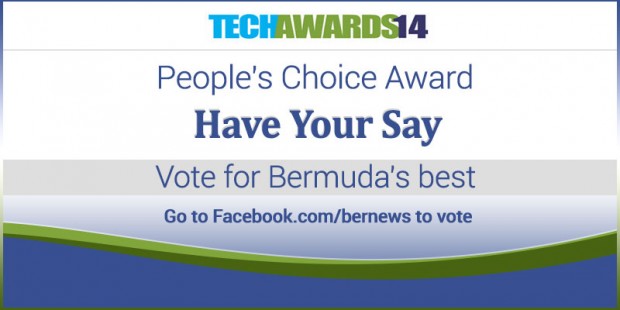 "The People's Choice Award voting on the Bernews Facebook page will also continue through to the 7th of November. The public is asked to go to vote for their favorite new technology innovation or process online.
"Now in its seventh year, the TechAwards, including People's Choice Award, will be presented on Thursday, November 20th in conjunction with the Global Entrepreneurship Week's Celebration of Innovation and Entrepreneurship.
"The public is welcome to attend this program. Specific time and location will be listed on the TechAwards Bermuda Facebook page. Joining the Department of E-Commerce on the GEW Bermuda Host Committee is the Youth Entrepreneurship Initiative of Bermuda and Bermuda Economic Development Corporation."
As of today [Nov 4], the nominees include:
Bermy Burners Hurricane Resources
Supatone Innovation
St. David's Primary School
Nothing to do in Bermuda?
Bermuda Zoological Society
Gorham's Ltd
EasyPark – Mobile
BermudaCamps.com
Bermuda Tourism Authority
The Fifth Step Bermuda Cybery Security Health Check
Dernier Cri
yCompliance
SPCA E-Cards
BermudaToday.com
Cahoot
Five Star Home Delivery Ltd.
Jobber.hm
Ice Breaker Ltd/Code Tuna
Bermuda Radar App
BIOS HSBC Exploere Ocean Academy
Bermuda Explorer
Read More About
Category: All, Business, News, technology