The island is today mourning the loss of Dr. Neil Burnie, the well-known veterinarian and colourful character with an unmatched passion for Bermuda's marine wildlife.
Dr. Burnie died following a tragic marine accident today [Nov 11], getting into difficulty while free diving off the waters of Horseshoe Bay.
The Bermuda Maritime Operations Centre said that Dr. Burnie was free diving helping to recover lobster traps lost in the recent hurricanes, and was discovered on the sea bed in an unresponsive state.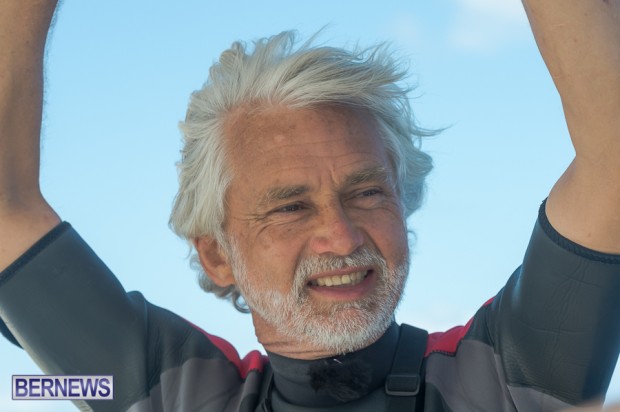 Immediately following his death, tributes began to pour out online, with many remarking that the island had lost one of its beloved figures.
Well-known throughout the island, Dr Burnie would go from swimming with sharks, to playing his saxophone on stage, to working at Endsmeet, where he cared for many of the island's animals.
Dr. Burnie's larger than life character and marine exploits captured the attention of an international film crew, leading to Dr. Burnie being selected to star in the Ocean Vet television series, which was filmed in Bermuda.
Photo courtesy of Ocean Vet, taken by Choy Aming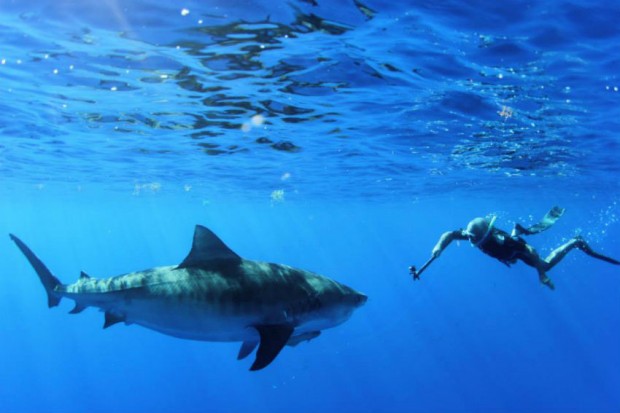 According to the Facebook page of the Ocean Vet television show, the series "follows the exploits of veterinarian Dr. Neil Burnie, a man on a mission to protect Bermuda's precious marine wildlife."
The Ocean Vet promo said Dr. Burnie had "truly infectious" enthusiasm and a "hands-on approach to some of the most dangerous marine animals makes for compulsive viewing."
Calling him an "eccentric character, full of life," Ocean Vet said "his love for the natural world developed whilst growing up in his native England. He fulfilled his dream of becoming a vet before wanderlust took him globe-trotting – busking, fly fishing and diving the worlds shallow seas."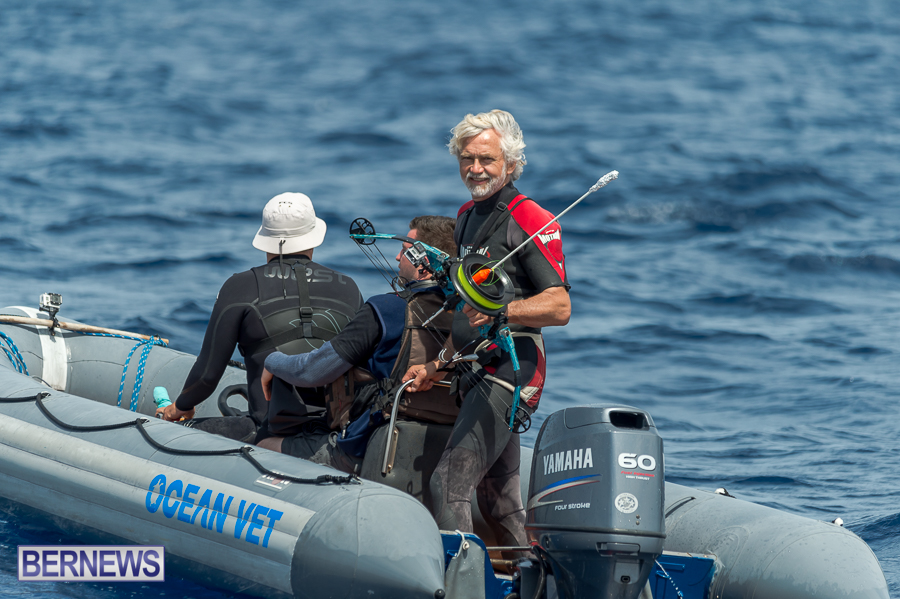 Premier Michael Dunkley extended his condolences, saying, "I have known Neil for many years, and this is an especially tragic loss. Neil will always be remembered as a person who had an immense love for our natural world.
"He was passionate about preserving our oceanic wildlife and our environment and his advocacy will be truly missed. He was a man who embraced all that life had to offer, an adventurer at heart, and a man who touched so many lives."
"On behalf of the Government, I wish to extend my sincerest condolences to Neil's family, friends and colleagues."
Dr. Ian Walker, Principal Curator of the Bermuda Aquarium, Museum and Zoo [BAMZ] said, "I was shocked and saddened to hear about Neil's tragic death today and know I speak for the entire aquarium family [BAMZ, BZS and ACP] to say our love, thoughts and prayers are with his family at this difficult time.
"Neil had a zest for life that was unparalleled and he lived life to full. He was an excellent veterinarian and also used those skills and his showmanship to tell an amazing story about Bermuda's marine environment.
"Bermuda lost a great ambassador today and many Bermudians lost a great friend. We will miss him and the close relationship that he had with the aquarium. I will miss him as a friend and for the kind and big-hearted person that he was."
OBA Chair Senator Lynne Woolridge said, "It is with great sadness that we learned today of the death of local vet, ocean activist, musician and well-known local character, Dr. Neil Burnie."
"Dr. Burnie touched many lives in Bermuda, through his years as a Government and private vet and as an avid ocean explorer, educator and activist for its protection. He will be greatly missed.
"On behalf of the One Bermuda Alliance, and all the people of Bermuda, I offer our condolences to his family and many friends and trust they may in time find solace in the enduring mark he made on the lives of so many, and in the zeal with which he lived his life."
The Progressive Labour Party also extended their condolences to the family of Dr. Neil Burnie, saying "The tragic loss of this contributor to our community should be mourned by all Bermudians. We extend our prayers and best wishes to his family."
Read More About
Category: All, Environment, News