The late Dr. Neil Burnie is featured on a newly released blues song, appearing with his harmonica alongside The Gadflys and guitarist Jeff Golub, who died on New Year's Day of progressive supranuclear palsy, a brain disorder, according to Rolling Stone magazine.
Local entertainment veteran Tony Brannon said, "Jeff was in the Billy Squier Band when he first came to play in Bermuda at the 40 Thieves in 1982 – he returned several times.
"He loved Bermuda and stayed with various Bermudians over the years. Jeff's last appearance in Bermuda was at The Surf Club in 1998, a club that Andy Newmark and I arranged entertainment for."
Left to right: Jeff Golub, Victor Chambray, Ivan Elias, Andy Newmark, and Paul Carrack, with Nils Lofgren, Andrew Chamberlain kneeling, at the 40 Thieves Club in Hamilton in 1982: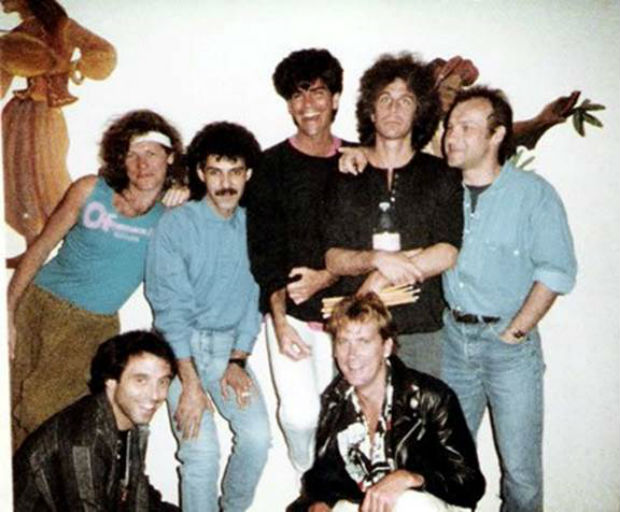 "I last had lunch with Jeff in Greenwich Village in 2010. A most wonderful time it was," added Mr. Brannon.
While only posted online on January 2, 2015, the song, titled "Times Are Ruff," was originally recorded in 2010.
The song's video description says, "Jeff Golub added blues guitar to this track, Times Are Ruff, in 2010. Jeff was an old friend from New York, he performed many times at the 40 Thieves Club, Bermuda."
"Also on this track is another dear friend, Dr. Neil Burnie [harmonica]. Both are in another place. RIP."
The well-known veterinarian died following a marine accident on November 11, and was buried at sea on November 16. In addition to his work with animals and ocean advocacy, Dr. Burnie's work in the music world included playing the saxophone, as well as harmonica.
Read More About
Category: All, Entertainment, Music