[Updated with video] The 'Friday Night Fights' were held at the Fairmont Southampton on Friday evening [Nov 21] with a full slate of boxing matches taking place, with both professional and amateur bouts featuring Bermudian, Canadian and American boxers.
Teresa Perozzi went down in the third round of her IBA Women's Middleweight Championship bout, with referee Steve Smoger stopping the fight earning American boxer Kali Reis the title.
Nikki Bascome lands a blow on his opponent: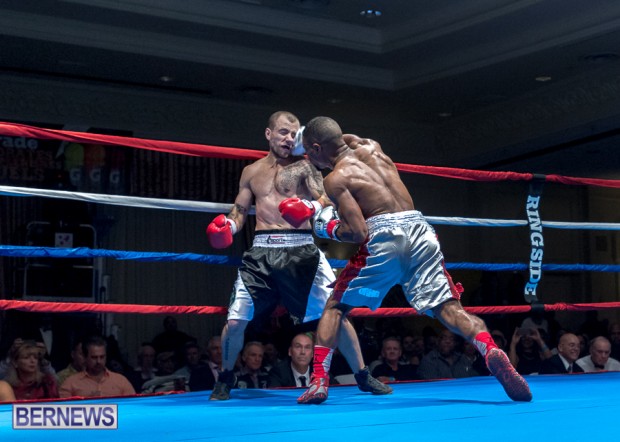 Bermuda's Chioke Tucker was defeated by Canada's Martello Jones, while Bermuda's Nikki Bascome brought the crowd to life defeating Joe Marchand Tipping from Canada in their professional welterweight bout.
The slideshow below contains over 300 photos from the night
On the undercard, Tyler Christopher defeated Alpher Xian in the first fight of the night, the second fight saw Matthew Tannock defeat Omar Dill, while Deondre Morris recorded a victory over Lekan Scott. Jeron Gunness defeated Andre Lambe in the fourth fight of the night. Corey Boyce defeated Drew Geoghegan in the night's fifth fight.
Update #1: Video highlights of the pro fights added below.
Update #2: Shadow Sports Minister, Michael Weeks said, "The Progressive Labour Party congratulates Nikki Bascome on his victory over Joe Marchand-Tipping in his professional welterweight bout on Friday night.
"The dedication Nikki has shown to the sport is impressive and he is a positive role model to other young Bermudians. We will be watching closely as he continues to develop in his career.
"We also acknowledge our female middleweight boxer Teresa Perozzi who despite being defeated has had a remarkable career and has shown herself to be a great champion. We wish her well!
"We aslso extend our best wishes to Chioke Tucker. Despite his defeat we are encouraged by his performance and expect to hear good things in the future."
Read More About