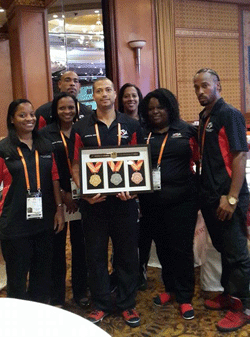 Jermal Woolridge and Sentwali Woolridge have both weighed in for the 7th Sanda World Cup in Jakarta, Indonesia, where both fighters will be representing Bermuda.
Sentwali weighed in at 69.9kg and Jermal 108.4kg, both will have Round Robins which will see them fight twice.
Jermal is set to face Omar Ali Ali Badr from Egypt on Thursday and Mostafa Khalatbari from Iran on Friday, while Sentwali will face Li Shen from China on Friday morning and Achraf Haddadi from Tunisia on Friday evening.
The pair are preparing for the Opening Ceremony where Jermal was selected as the "Athlete's Representative" and will read the Athlete's Oath.
Since the weigh-in, Sentwali has now starting to cut for his second weigh-in on Friday morning.
Jermal Woolridge received an automatic qualifying spot based on the criteria of the top four qualifying places, while Sentwali Woolridge was offered a spot by the International Wushu Federation based on his fifth placed performance at last year's world championships in addition to his gold medal performance at the Pan American Championships in Costa Rica.
Read More About