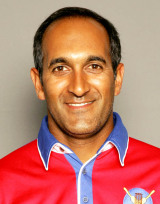 The Eastern Province Cricket Board of South Africa have appointed former Bermuda cricket player Saleem Mukkudem, as the interim Chief Executive Officer of EP Cricket, according to a report from BoxScoreNews.
Mukkudem's appointment is an interim position for two months while the Board recruits a permanent CEO, the report said.
The 42-year-old Mukuddem qualified in 1999 and then went overseas with one of the Big Four firms on specialist training in Bermuda. He returned to South Africa in 2008.
"We are certainly very fortunate to have a person of Saleem's expertise to come on board and help us to turn things around," said EP Cricket President, Donovan May.
"EP Cricket is clearly not in a healthy position and we need to firstly own up to our challenges and then take decisive action to turn things around. With the help of Saleem and two additional independent directors, we will develop a clear plan to get us back on track.
The Board of EP Cricket will support Saleem fully while we recruit a full-time CEO. I must also thank CSA for supporting us during an extremely difficult period." concluded May.
Read More About