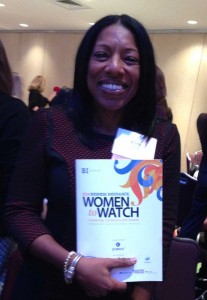 [Updated] Business Insurance magazine recently honoured XL Insurance [Bermuda] Ltd's Senior Vice President and General Counsel Kim Wilkerson [pictured left] at its 2014 Women to Watch Leadership Conference and Awards Ceremony in New York City.
Ms. Wilkerson was one of 25 women selected out of more than 400 industry professionals nominated from around the world.
Women to Watch is an annual feature spotlighting 25 women who are doing outstanding work in commercial insurance, reinsurance, risk management, employee benefits, and related fields such as law and consulting.
Honorees are selected by a panel of senior editors at Business Insurance who consider various criteria, including recent professional achievements, influence on the marketplace, and contributions to the advancement of women in business.
In Ms. Wilkerson's award-accepting remarks she talked about three points, including confidence and how critical it is that you have confidence in yourself to make good decisions; accomplishment, and how that confidence leads you to make a difference and to get things done that matter; and sharing, reminding us that accomplishments must be shared if we are really to change things in the world.
Ms. Wilkerson said, "Just imagine how much better the world would be if we all shared more of ourselves – think what we could accomplish together."
In a self-deprecating moment, she added lightness to the program, telling a story of running into a friend in the Bermuda airport on her way to the Women To Watch event
She said, "I was getting excited to attend this program and was feeling pretty good about being named – as [President of XL Insurance Bermuda Ltd] Patrick Tannock smilingly says, 'one of only 25 Women to Watch in the whole world.'
"I ran into my friend in the airport, and after exchanging pleasantries, she told me she was on her way to give one of her kidneys to someone who needed it. That put sharing in a whole new light. It reminded me again of the importance of confidence and of thinking bigger than ourselves."
In addition to being honored at the Business Insurance event, Ms. Wilkerson was profiled, along with other honorees, in the December 8, 2014 issue of the magazine.
Admitted as a barrister and attorney in England and Wales in 2002 and Bermuda in 2003, Ms. Wilkerson spent the next several years in private practice with the Hamilton, Bermuda-based insurance and reinsurance specialty law firm of Attride-Stirling & Woloniecki before joining XL Insurance [Bermuda] Ltd in 2007.
Patrick Tannock, President of XL Insurance [Bermuda] Ltd., said Ms. Wilkerson's aptitude for insurance law and her extensive brokerage experience are just part of what makes her a unique operational and strategic asset to the company. "She's definitely a differentiator for us," Mr. Tannock said.
"Kim's background as a broker allows her to see things from both [client and insurer] perspectives. She can relate to them and help us frame our responses to the brokerage community."
Update: A PLP spokesperson said, "The Progressive Labour Party would like to take this opportunity to congratulate Ms. Kim Wilkerson on her selection to the "Women to Watch" list at the Business Insurance 2014 Women to Watch Leadership Conference & Awards held recently.
"Ms. Wilkerson, the Senior Vice President and General Counsel at XL Insurance (Bermuda), is a woman who has persevered and worked extremely hard to achieve all of her goals.
"We extend our congratulations to Ms. Wilkerson on this significant achievement!"
Read More About